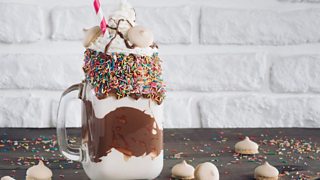 Freakshake warning for kids
A high-calorie, mega milkshake known as a freakshake is popular with children but is giving health campaigners sleepless nights.
The creations combine ice cream, chocolate bars and entire slices of cake. They started life in Australia, but are now gaining popularity in the UK.
The BBC visited a cafe in Manchester to find out why the sugary treats are so attractive to customers.