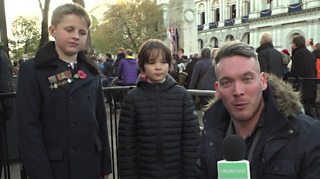 Kids take part in People's Procession in London
Ten thousand people took part in a special march past the Cenotaph memorial in London on Sunday - 100 years after World War One (WW1) ended.
The People's Procession was held to remember those who lost their lives in the fighting.
Dafydd and William spoke to Martin about what they've been doing in memory of their relatives, who fought in WW1.
More on this story: Special events mark end of WW1 100 years ago