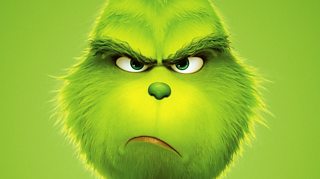 The Grinch takes on our Christmas game
Watch out Christmas! The Grinch is back in a brand new animated movie.
Based on the famous book by Dr. Seuss, the film follows the hairy green character as he plans to stop Christmas from being celebrated in Whoville by stealing all the town's decorations and gifts.
British actor Benedict Cumberbatch stars as the voice of The Grinch.
We sent Newsround viewer Amina to test Benedict out with our 'Would You Rather' Christmas game.
The Grinch is released in UK cinemas on 9 November 2018