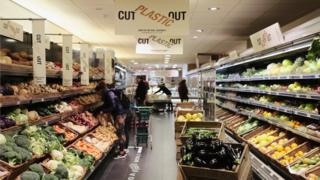 A Plastic Planet
A supermarket in London has become Britain's first to introduce plastic-free zones.
Thornton's Budgens store in Camden has switched more than 1,700 product lines to plastic-free packaging, including crisps and cheese.
Its aim is to try to become "virtually plastic-free" within three years.
The news follows the introduction of the world's first plastic-free aisle to a shop in Amsterdam, the Netherlands, in February.
For many products, plastic packaging has been replaced by old-fashioned looking paper bags made from cellulose, which is something that is found in green plants.
A new wax packaging has also been created for the store's 300 different cheeses.
Andrew Thornton, the founder of Thornton's Budgens, said "We're hoping that what we're doing here will challenge the likes of Sainsbury's, Tesco and others".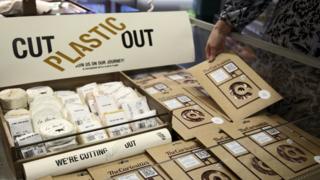 A Plastic Planet
A Plastic Planet, the campaign behind the plastic-free zones, called for the transformation of the UK's approach to waste management.
Sian Sutherland, co-founder of the group A Plastic Planet, which is working with the supermarket, said: "In just 10 weeks the store has removed plastic packaging from more than 1,500 products, finally giving their customers the choice they want."