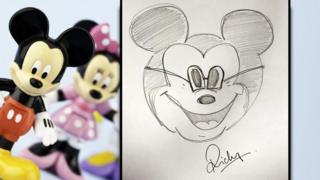 Getty Images
It's nearly 90 years since Mickey Mouse was first introduced to the world.
On 18 November 1928, Walt Disney's Mickey appeared in his debut cartoon Steamboat Willie.
Walt Disney said: "He popped out of my mind onto a drawing pad on a train ride from Manhattan to Hollywood."
Since his first appearance, Mickey Mouse has appeared all over the world in TV, films and cartoons. Some of you might have been lucky enough to meet him at Disneyland!
To mark this anniversary, we want you to send in your pictures and we will try to show as many of them as we can on Newsround.
What do you think Mickey would look like at 90 years old? Send your pictures to us by clicking here.