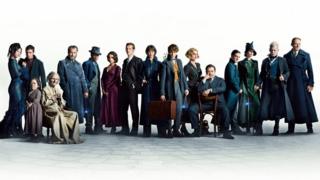 Warner Bros Pictures
Listen up wizarding fans! Newsround wants your questions for the cast of the new movie - Fantastic Beasts: The Crimes of Grindelwald.
It follows Newt Scamander and Albus Dumbledore as they attempt to take down the dark wizard Gellert Grindelwald, while facing new threats in a more divided wizarding world.
It's the second of five movies in the Fantastic Beasts film series.
Actor Eddie Redmayne leads the cast as Newt, along with Katherine Waterston, Dan Fogler, Alison Sudol and Ezra Miller, who all return in their roles from the first film.
This page is now closed. Thank you for sending in your questions. Newsround will choose some of the questions to ask the cast when we talk to them about the new film.