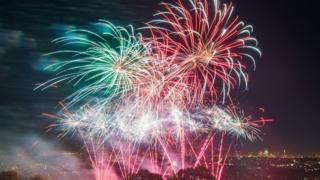 Getty Images
It's Bonfire Night, so loads of us will be enjoying fireworks and sparklers.
But while they look pretty amazing, remember, remember to stay safe on this, the fifth of November.
There are hundreds of specially organised bonfires in public parks and you might visit a friends' party or have smaller bonfire in your back garden with your family.
If it's an organised display, there are professional teams who set and light the bonfires safely. They also light all the fireworks.
That's because fireworks can be very dangerous and can travel at the speed of a racing car.
If you're having a display at home, the Royal Society for the Prevention of Accidents (RoSPA) say adults should deal with fireworks and that children should watch from a safe distance.
There are more firework safety tips in this video.
Pets often get very frightened by fireworks, so watch out for them too. You might want to keep all your pets indoors and close all the curtains.
So, what about your sparklers? What's the best way to light and handle them?
Newsround's got you covered, just like your hands should be when holding your sparkler tonight!