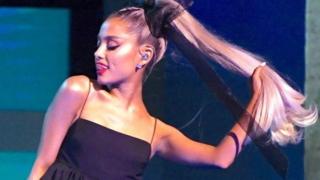 Getty Images
Ariana Grande is rarely seen without her high ponytail trailing down her back, but now it seems as if her trademark hairstyle is actually really painful.
When fellow pop star Camila Cabello tried out the style for the first time, she realised how much it hurt. She reached out to her friend, Ariana for advice on social media.
Ariana, who uses hair extensions, replied saying: "well u actually have hair so that prolly makes it a lil more painful ..... nah jk i'm in constant pain always and don't care at all".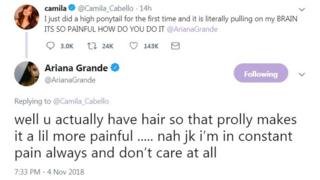 Twitter
The Story of Ariana's Hair
From 2010 to 2013, Grande played Cat Valentine on Nickelodeon's series "Victorious." The character had red hair, which meant Grande was colouring and bleaching her hair frequently. In 2014, Grande began wearing the high ponytail just as her music career was taking off.
Answering fans who asked why her hairstyle never changed in 2014, the star said on Facebook that she would keep the ponytail for now.
"I wear it in a ponytail because my actual hair is so broken that it looks absolutely ratchet and absurd when I let it down," Grande said. "It's all that works for now (AND I'm comfortable for the first time in years)."
But now four years on, Ariana is showing no signs of changing her iconic hairstyle any time soon.
Should Ariana ditch the painful ponytail?