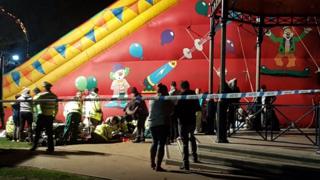 Oliver Trimble
On Saturday, while attending a fireworks event in Woking, Surrey, eight children were hurt when they fell from a large inflatable slide.
All of the children were taken to to hospital, and seven have now been discharged. One has stayed in hospital but their injuries are not thought to be too serious.
Many people are upset that an event for children and their families became unsafe.
The slide has now been deflated and the park where the fireworks event took place has been closed to the public.
Woking Fireworks has said they are happy that the children's injuries are "not as serious as first feared".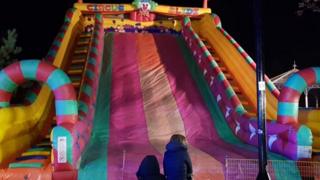 Andy Datson
Some people who attended the event said they thought not enough was done to make sure that the children on the slide were safe.
The slide was around 9 metres tall - and was very crowded according to some of the people who were there.
One parent who attended the event said he saw "at least 20" children on the slide, and felt that this was too many.
"This slide has up-to-date test certificates and insurance documents...
Joe Mercer from The Showmen's Guild - a group made up of people who run events like funfairs - said that the slide had up-to-date certificates.
Having an up-to-date certificate should mean that the slide is safe to use.
The police are currently investigating what caused so many children to fall from the slide. Currently no arrests have been made.