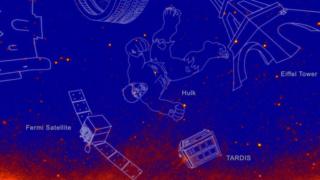 NASA
For thousands of years, people have looked up at the stars and ordered them into constellations. A constellation is a group of stars that forms an imaginary outline of something.
If you look up to the night's sky perhaps you're familiar with the Big Dipper or Orion's Belt. But can you spot the TARDIS or the Incredible Hulk hidden among the stars?
As hard as you try, the answer is probably no.
Nasa has come up with the new constellations to celebrate the special telescope that spotted them in the first place.
The Fermi Gamma-ray Space Telescope which has just turned 10 years old. Since 2008 it's been scanning the heavens, mapping and measuring sources of gamma rays.
When humans gaze at the stars, we only see visible light - most other sources of light are invisible to us, including gamma rays.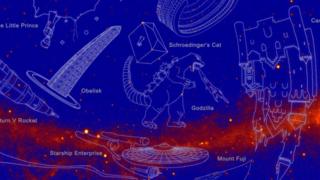 NASA
Nasa's Fermi space telescope can see the gamma rays, so astronomers have mapped and named the sources of light in its honour. The new constellations feature the Hulk, Godzilla, the Starship Enterprise, the TARDIS, Albert Einstein and other famous "modern" objects.
Nasa described the constellations as unofficial, since there are only 88 recognized constellations, according to the International Astronomical Union.
You can explore all of the new constellations at Fermi's interactive webpage. There you can see where the TARDIS and Hulk are located, next to official constellations like Orion and the Big Dipper.
Pictures: Nasa