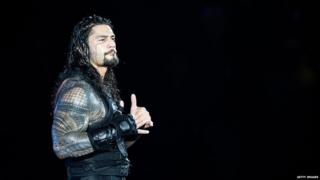 Getty Images
Wrestling star Roman Reigns, whose real name is Leati Joseph Anoa'i, has had to give up his championship belt after revealing he has leukaemia which is a form of cancer.
Speaking in the ring to a packed stadium, Reigns gave an emotional announcement revealing that he will be taking a break from the sport.
The 33-year-old said he has had leukaemia since 2007.
"I've been living with leukaemia for 11 years, and unfortunately it's back," the wrestler said.
He went on to declare he will return to the WWE.
"I will beat this, I will be back, and you will see me very, very soon."
The announcement left fans, viewers and friends stunned. The wrestling community have been offering their support to the star.
Current Smackdown Live general manager Daniel Bryan wrote on social media: "I've never seen the air sucked out of a locker room like it was tonight. Our thoughts and prayers are with Roman and his family. #ThankYouRoman."