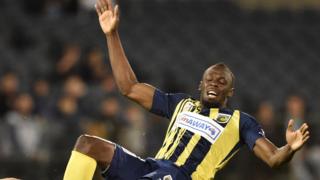 Getty Images
Usain Bolt's dreams of becoming a professional footballer are in doubt after the former sprinter failed to agree a deal with Australian side Central Coast Mariners.
The eight-time Olympic sprint champion joined the A-League side for an "indefinite training period" in August.
He scored two goals for the Mariners in a friendly, but did not play in matches when the season began.
Bolt was offered a contract last month, but the club couldn't find a way to pay his high wages.
He integrated very well into the team and made great strides as a footballer.
Mariners owner Mike Charlesworth thanked Bolt for his eight-week trial, describing it as a success.
"He integrated very well into the team and made great strides as a footballer," Mr Charlesworth said.
The 100m and 200m world record holder has described it as his "dream" to play professional football.
"I would like to thank the Central Coast Mariners owners, management, staff, players and fans for making me feel so welcome during my time there," Bolt said.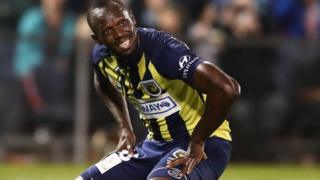 Getty Images
Can Usain Bolt still make it as a footballer?
In August, the Jamaican admitted he was struggling with the physical demands of professional football "because I'm not used to picking up speed, going back down, up and down, up and down, back and forth, that's the most challenging."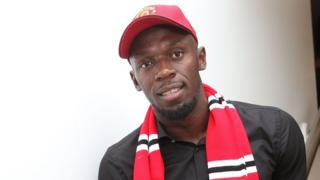 Getty Images
Bolt was offered a professional contract by Maltese club Valletta FC - but he turned it down. It's possible more clubs will be interested because of the publicity a player like Bolt brings. However, he has high wages demands and some smaller clubs will struggle to pay him. Also, Bolt is 32, which is quite old for a first football contract. Most other players sign professional forms at 16.
Former Australia manager, Ange Postecoglou says Bolt has little chance of making it as a professional.
"I've always believed that football is one of those sports that's very, very difficult to just change from one to the other."
Former Wolves and Millwall player, Andy Keogh who plays in the A-League says Bolt has a first touch "like a trampoline". Ouch.
FIFA 19
Bolt's A-League career might be in tatters, but he still might be included in Fifa 19.
It's been suggested Bolt will be available as a free agent. Surely his speed ranking will be 99!?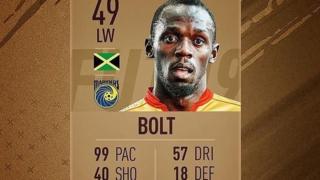 EA Sports
Bolt's Football Career So Far
Bolt trains with Mamelodi Sundowns FC - hinting at a move to the South African side, but is accused of 'trolling' when he angers fans by actually announcing that he'll be playing at Soccer Aid.
Bolt was invited to train with the Bundesliga outfit Borussia Dortmund as part of a two-day trial. He scores a goal in training.
Usain Bolt plays for Norwegian team Stromsgodset in friendly against Norway's under-19s.
Bolt plays at Soccer Aid 2018 at Old Trafford and captains the 'Rest of the World' XI against Robbie Williams' 'England' side.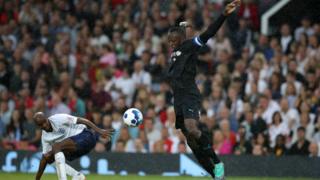 Getty Images
The eight-time Olympic gold medallist touched down in Australia to begin training with the Central Coast Mariners in the hope of securing a professional contract with the A-League club.
The 32-year-old Jamaican made his debut as a 72nd-minute substitute against an amateur select side in which the Mariners ran out 6-0 winners. Reports said Bolt looked well off the pace, even during a 20-minute cameo.
Bolt scored his first goals for the Mariners in a 4-0 pre-season friendly against Macarthur South West United - he celebrates with his trademark lightning bolt pose.
Usain Bolt's representatives say Central Coast Mariners have offered him a deal, but coach Mike Mulvey says he knows nothing about a contract offer. It's reported that Bolt asked for a deal around $3m but the Mariners' offer was reportedly in the vicinity of $150,000.
Usain Bolt's trial with Australian football club Central Coast Mariners has come to an end as a commercial solution couldn't be found with a third party needed to finance the deal.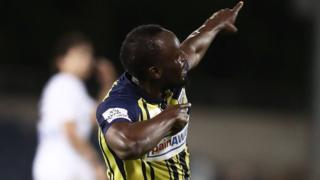 Getty Images