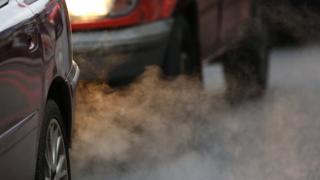 Getty Images
A report from the Business, Energy and Industrial Strategy committee wants the government to be more ambitious in their plans to ban the sale of all new diesel and petrol cars from the UK.
The MPs who wrote this report want the government's plans moved forward, banning the sale of new diesel and petrol cars by 2032 - eight years earlier than originally suggested.
In 2017, the government announced plans to make all new cars sold zero emission - meaning they did not release harmful pollution into the air - by 2040.
Countries like Denmark, Germany and Ireland have plans put in place to ban sales of new petrol and diesel cars by 2030.
However, some people feel bringing the plan forward is too ambitious, as not many people are buying greener cars.
Mike Hawes, head of the Society of Motor Manufacturers & Traders (SMMT), says a shift to entirely electric-powered cars by 2032 is "unrealistic" as "Zero emission vehicles make up just 0.6% of the market"
But in 2017, the UK was one of the top ten countries for electric vehicle sales and has more than 14,500 electric charging points where you can plug in your car.
Electric cars are seen as being a greener option than diesel and petrol cars.
This is because they are less polluting and are able to use renewable energy.
However, the MPs behind this report criticised the lack of re-charging points for electric cars in the country, which they believe would put people off using them.