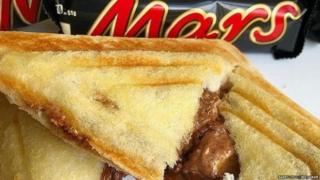 Barry Chui | Instagram
Toastie fanatic Barry Chui is about to open a restaurant entirely dedicated to the classic snack. But are these the weirdest fillings ever?
Frankie's Toasties set to open in Manchester next week, will be serving up an interesting range of toasted sandwiches.
These aren't your regular ham and cheese, instead customers can choose from a selection filled with everything from Japanese Katsu Chicken Curry, to molten Mars Bars, Caramac and even Super Noodles.
Barry came up with the idea when he was at home and had nothing to eat "apart from half a pack of cheese and a ton of beans. Everyone loves a toastie, and if they don't like it it's because of what's in the middle of it! So with the right toastie ingredients you could rule the world with a toastie."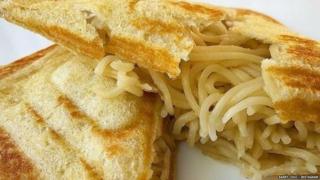 Barry Chui | Instagram
Barry's travels around the world inspired him to try out the unusual flavour combinations. "I visited a Korean BBQ on a recent trip to Tokyo and they served red hot spicy ramen with cheese! So when writing the menu I thought that's going on there! We have a list longer than our arm because at the end of the day, you can put anything in a toastie!"
Have you ever come up with a culinary masterpiece with a seriously creative combination of flavours? Let us know in the comments below.