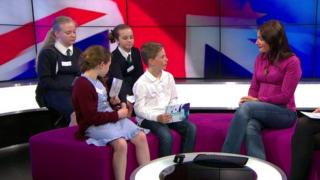 Have you wondered what Brexit will mean for the future of Britain?
The Prime Minister, Theresa May is trying to make arrangements for how Britain will trade with the rest of Europe once the country has left the EU. European officials have warned that a 'no-deal' is likely and it's also unclear how Brexit will affect the Irish border.
The UK is due to leave the EU in March next year and with all of this happening and a lot of uncertainty, it's sometimes hard to know what this means for the future.
Next week, Newsround will be asking the BBC's Europe expert Katya Adler your Brexit questions.
This page is now closed. Newsround will pick some of the questions sent in to ask Katya. Come back to the Newsround website to hear her answers.