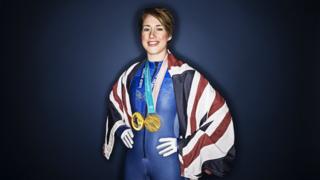 Getty Images
Britain's most successful Winter Olympian Lizzy Yarnold has retired from her sport skeleton.
Skeleton is a winter sport where the competitor rides head-first and face down on a flat sled on an ice track.
Lizzy became the first British athlete to keep a Winter Games title when she won gold at the Winter Olympics in Pyeongchang 2018.
The 29-year-old said she was "ready for a new chapter".
But how much do you know about her?
Here are 5 top facts
1. Lizzy is a 29 year old athlete from Kent. She grew up on a farm and tried her hand at lots of sports before settling on Skeleton.
2. Lizzy completed a career grand slam in 2015 after adding to her first Olympic title with gold medals at the World Championships, World Cup and European Championship.
3. She's had her fair share of injuries - Lizzy had surgery for a back problem in July and suffered from a knee condition, as well as vestibular disorder - a condition that affects the inner ear and brain, and leads to spells of dizziness.
4. Yarnold will still be involved in skeleton after her retirement and is heavily involved in teaching girls to be more confident.
5. Lizzy loves cooking, listening to music and knitting.