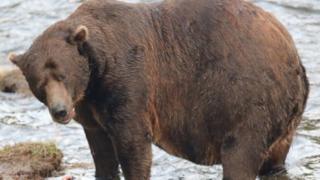 Katmai National Park & Preserve
Twelve brown bears have been competing in a battle of tubbiness in an annual Fat Bear Week competition in the United States.
It's run by Alaska's Katmai National Park and Preserve in the US, and it's for a very important reason.
The competition is used to educate the public about the bears but, for the bears, gaining weight at this time of year is about staying alive.
They will retreat to their dens for a long sleep next month - called hibernation - and that added fat they've been gaining since July will help them survive the winter.
In Alaska, the winter can be bitterly cold with temperatures sometimes dropping to −45 Celsius.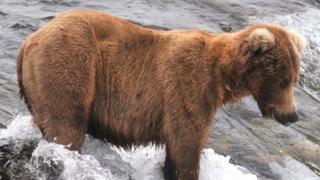 Katmai National Park and Preserve
Each day of Fat Bear Week, photos of the bears were posted on the park's social media pages
The bear with the most likes progressed to the next day's round.
After a week of voting there's a new queen of the den and her name is 409 Beadnose.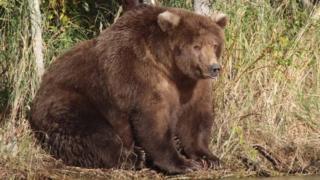 Katmai National Park and Preserve
Beadnose, who is a shaggy brown bear, is part of a group known as the Brooks River bears, who have become the park's celebrities.
She has been eating lots of salmon, berries, vegetation and other animals to get ready for winter.
Katmai National Parks's 2,000 bears can lose a third of their body weight during hibernation. but luckily the national park has a river well-stocked with salmon.