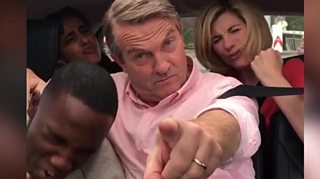 Doctor Who cast does Carpool Karaoke
Check out the Doctor Who crew enjoying a singalong complete with fist pumps, power ballads and some pretty funny dance moves!
Bradley Walsh - who plays Graham O'Brien, one of the Doctor's companions - posted the team's own version of Carpool Karaoke on Instagram.
Walsh titled the video 'Bradley's Bangers'. He and fellow cast-members Jodie Whittaker - the Doctor herself - Tosin Cole and Mandip Gill danced and mimed along to a song from when your parents were probably children - 80's rock song 'Alone' by Heart.
Writing on his Instagram post, Bradley says: "To all the whovians out there! Enjoy the first EP. Lots of love The Doc, Graham, Ryan and Yaz!"
Footage from Instagram bradderswalsh