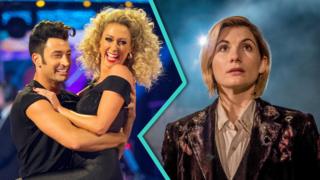 It was an exciting weekend of television, with Doctor Who returning to our screens and movie week on Strictly Come Dancing.
Movie week is always one of the most exciting Strictly shows and, this year, it didn't disappoint. We had amazing lifts, iconic film songs, unbelievable costumes and Bruno even fell off his chair.
Meanwhile, lots of people were talking about Doctor Who - not least because lead actor Jodie Whittaker is the first ever female Time Lord.
People on social media thought she did a great job, with comments including "a breath of fresh air", "this is everything the show was ever meant to be" and "Jodie has nailed it at the first attempt".
But we want to know, which show did you prefer? Which one is your favourite, or do you like them both equally? Or neither of them?!
Let us know in the comments below!