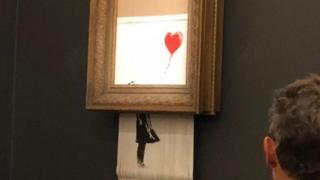 Sotheby's
When someone rich spends £1 million pounds on a painting - they don't expect any nasty surprises!
But this 2006 spray painting, by the famous graffiti artist Banksy, ended up being shredded as soon as it was sold!
The print was in a big frame that had a shredder hidden inside it and all of a sudden the canvas suddenly started passing through it.
The picture was a print of one of Banksy's most famous works - Girl With Balloon.
Lots of people think it was a planned stunt though, as Banksy went on social media saying "Going, going gone" as the shredding happened.
"Going, going, gone" is what an auctioneer says before selling to the highest bidder.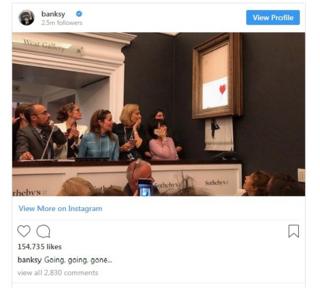 Instagram/Banksy
Alex Branczik, one of the bosses at Sotheby's, the shop where the painting was sold, said "It appears we just got Banksy-ed."
You buy a artwork to hang on the wall but it looks like this one will be more of a jigsaw puzzle!