There has been a special surprise for a boy recovering after an earthquake in South East Asia.
The quake hit the Indonesian island of Sulawesi on Friday 28 September.
It caused a lot of damage to roads and buildings there, including hospitals.
Many people have been hurt or left homeless, so aid has been sent to help with the recovery.
One of those injured was 12-year-old Rizky.
He was in an internet cafe in Palu watching highlights from his favourite football team Manchester City when "suddenly the earth started to shake".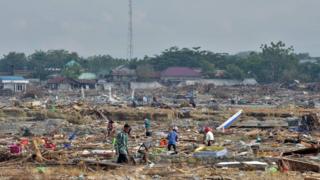 AFP/Getty Images
Rizky's arm was broken as he tried to run away.
He's now being treated in a special outdoor hospital and is with his family.
When his favourite Man City player, Riyad Mahrez, heard about what had happened to him, he decided to send him a video message!
In it Mahrez said he hoped Rizky would get better soon and sent him the best wishes of everyone at Manchester City,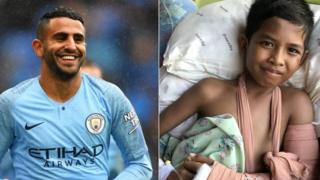 PA
Mahrez says he'll also be sending him a signed shirt.
Rizky says he can't wait to get better so he can wear it.