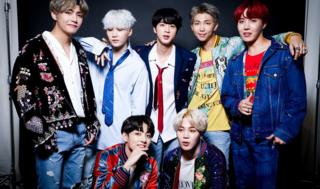 Getty Images
They've been number one on iTunes in over 91 countries and regions with their latest album Map Of The Soul: 7, have got over 26 million subscribers on YouTube and are the first K-pop band EVER to top the US album charts.
It's fair to say, BTS is the K-pop band that is taking over the world.
The group sold out two shows at the O2 Arena in London on 9 and 10 October back in 2018.
So who are this global musical sensation? Read below to find out more.
BTS are a K-pop (or Korean pop) group made up of seven members - Jin, Suga, J-Hope, RM, Jimin, V and Jungkook - who come from all over South Korea.
They launched in 2013 and have since rocketed to global stardom.
Over the years, the group have produced material around various themes starting with the 'School' trilogy.
This was followed by the 'Most Beautiful Moment in Life', 'Wings', and most recently, the 'Love Yourself' series.
Their album 'Love Yourself: Answer' stormed to the top of the US charts, which saw South Korean President Moon Jae-in taking to Twitter to congratulate the boys on their success.
BTS is the biggest K-pop group internationally - and it doesn't look like they're stopping any time soon.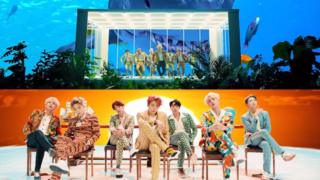 BTS (방탄소년단) 'IDOL' Official MV
Why are BTS so successful?
There are four reasons that BTS have become as popular as they have.
1. The music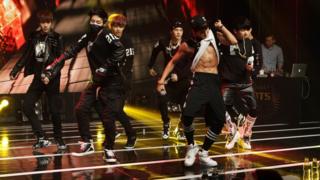 Getty Images
With K-pop growing in popularity, they're simply making the music that people want to listen to!
According to Billboard, their album 'Love Yourself: Tear', which is sung in Korean, became "the first primarily foreign-language No 1 album in over 12 years."
Not only that, but many people say that the subject of their music has played a part in their success.
While many K-pop songs are about relationships and love, BTS cover subjects that other bands may not like bullying, elitism and mental health.
2. Their performance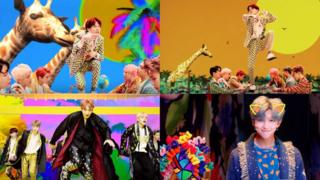 BTS (방탄소년단) 'IDOL' Official MV
There's no point having amazing songs if you can't sell them to the world - and BTS have got this down to a fine art.
With their slick dance routines and extremely impressive music videos, they've attracted a loyal group of fans who have fallen in love with their music even more.
Mr Son, the band's choreographer, explains: "Music videos seem to be one of the most important factors. Messages from an artist can be delivered more effectively."
To polish their performances, BTS practice for hours. For their debut performance, they were working at it for 12 to 15 hours a day to get it right. Well, it certainly paid off!
3. The internet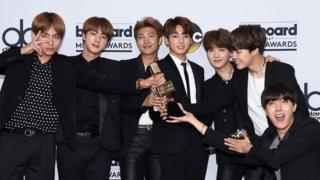 Getty Images
The internet - and in particular social media - has played an enormous part in the success of the group.
Suga told BBC Radio 1: "I think we're so lucky to be born at the right time. Without social media, we wouldn't have been so successful."
In 2018, the boys won a Billboard Music Award for Top Social Artist, beating huge names like Justin Bieber, Ariana Grande and Selena Gomez.
They were the first K-Pop group to win one.
"We still cannot believe that we are standing here on this stage at the Billboard Music Awards," the group said in their acceptance speech.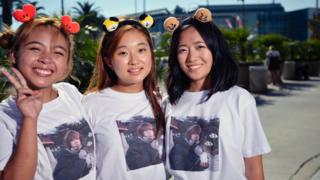 Getty Images
Social media has also allowed the group to connect with their followers on a really personal level and gather fans across the world, including here in the UK.
Not only that, but they also engage with their fans via the internet in a different way to other groups like them.
Unlike many other bands, pop culture expert Kim Hern-sik says BTS are actually managed by quite a small agency and are allowed to do what they want a bit more.
"The boys are granted freedom in interacting with their fans on social media," she says. "They are really successful because they know how to interact with their fans and I think their popularity is here to stay."
4. The fans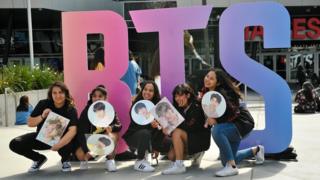 Getty Images
No band can have success without its fans and BTS has some of the most loyal, dedicated fans that the world has EVER seen with 19.4 million followers on Twitter and 23.7 million on Instagram.
Known as the ARMY, it was the fans who cast an unbelievable 300 million online votes to ensure that the group won their Billboard award.
And in Autumn 2017, they watched the video for 'DNA' 50 million times on YouTube in just one month!
With numerous pages, profiles and sites set up all over the world by adoring followers, fans spend hours posting content, sending messages and sharing their love for the seven boys.
What records have BTS broken?
BTS have broken more records than we can even begin to count. But here are some of the biggies...
First K-pop group to speak at the United Nations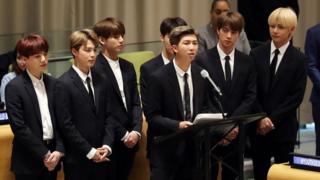 EPA
In September 2018, BTS made headlines for becoming the first Korean pop music group to address the United Nations (UN).
RM, who's the leader of the band, spoke about overcoming insecurities and urged other young people to do the same.
"I've made many and plenty of mistakes in my life," he said.
"I have many faults and I have many more fears, but I'm going to embrace myself as hard as I can. And I'm starting to love myself gradually just little by little."
First K-pop group to top the US album charts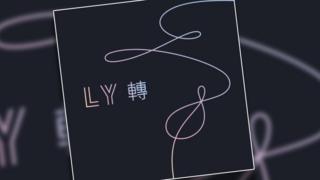 BTS; Big Hit
Their album 'Love Yourself: Tear' topped the US charts back in June, making them the first K-pop band to do so.
The latest instalment 'Love Yourself: Answer' did the same thing and they also received a record breaking 1.5 million pre-order sales for it.
But it isn't just the Love Yourself series that has brought the boys album success. Wings became the first Korean album to enter the UK album charts too.
First Korean act to perform a US stadium show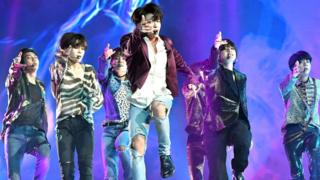 Getty Images
...and they'll be bringing it to the UK oh-so-soon! We can hardly wait.
On the subject of performances, when the group performed the TV debut of their single Fake Love at the 2018 Billboard awards, they became the first Korean artist to perform at this ceremony and the first Asian artist to premiere a new song at it.
And that's not everything. BTS are also the first Korean group to have performed at the American Music Awards, which they did back in November 2017 with their single DNA.
Oh so many online records (we've lost count!)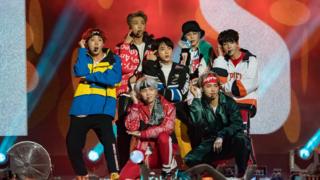 Getty Images
Well, first of all, BTS appear in the 2019 edition of Guinness World Records - twice.
The group has the record for the most Twitter engagements, with each of their tweets having an average of 330,624 retweets, replies, likes or other interactions.
In August 2018, the band's song 'Idol' also set the record for the most viewed music video online in its first 24 hours, with over 45 million views.
This beat Taylor Swift's record, which she set almost exactly one year before, when her track 'Look What You Made Me Do' got 43.2 million views.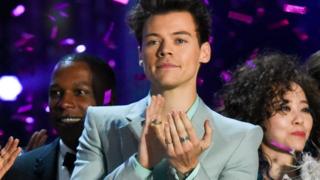 Getty Images
By the start of October 2018, 'Idol' was sailing past 194 million views.
On top of these records, BTS also have the gong for longest time spent at the top of the US's Billboard Social 50 chart - a popularity chart which ranks the most active musical artists on the world's leading social networking services.
They pinched the record off Justin Bieber after remaining at number one for the 57th week in a row.
What do you think of the record-breaking BTS boys? Have you been lucky enough to get tickets to see them in concert? Let us know your thoughts in the comments below.