That's it! Strictly Come Dancing has finished for another year, with Stacey Dooley and Kevin Clifton lifting the famous glitterball trophy.
It was an amazing final with Stacey Dooley, Joe Sugg, Faye Tozer and Ashley Roberts all battling it out to be crowned champion of the ballroom.
Each couple performed three dances on the night. You can read more about the final here.
Let us know what you have thought about the series in the comments and read on to catch up on everything else that has happened in this year's competition.
The semi-final did not disappoint, as the first week that each couple had to perform two dances.
Former Pussycat Doll Ashley Roberts and her partner Pasha Kovalev shot to the top of the leader board with a routine that left judge Craig Revel Horwood lost for words.
He clapped when asked for his thoughts on their second performance, for which they danced the American smooth filled with lots of dramatic lifts. They landed the only perfect score - 40 points - of the night.
Faye Tozer and Giovanni Pernice also continued to wow the judges and remained joint top of the leaderboard for the third week running, after impressing the panel with their passionate Argentine tango.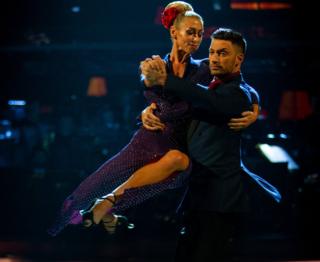 Just one point separated the top three couples, with Stacey Dooley and Kevin Clifton coming in a close third place.
It wasn't the best night for Joe Sugg, who landed a combined score of of 59 for both of his dances. But fortunately, he kept himself out of the dance-off.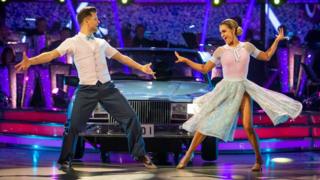 Nerves seemed to get the better of Lauren Steadman, who made a few mistakes in her second dance of the night, and managed a total score of only 54 points. This, unfortunately, landed her in the dance-off against Ashley Roberts.
Despite a valiant dance-off on Sunday night, Lauren became the 11th celebrity to leave Strictly Come Dancing after all four judges chose to save Team Pashley.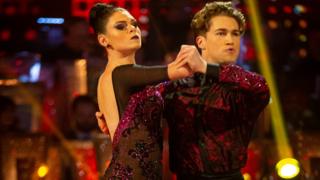 When asked by presenter Tess Daly about her time on the show, Lauren said: "I have absolutely loved my Strictly journey and it has been so much more than anyone ever tells you it's going to be and that you thought it would be. Down to the smallest things; I mean outfits, hair, makeup, this man (AJ), the judges, all the choreographers. It's just… I can't tell you just how magical it is."
Sunday's results show saw a musical performance by Little Mix singing Woman Like Me. The pop group made Strictly history as they were joined by an all-female band and dancers - the first time this has happened in the show's 14-year history.
Paralympian Lauren Steadman was first to take to the floor alongside her professional partner AJ Pritchard. They danced the American smooth to I'm In Love With A Wonderful Guy from the musical South Pacific. The judges awarded them 35 points.
Faye Tozer topped the Strictly Come Dancing leader board for the second week running after earning a perfect score of 40 for her energetic Charleston to Lonely Goatherd from the Sound Of Music. Last week the Steps star scored 39, placing her in joint-first with Stacey Dooley for their main dances.
The judges' reactions were overwhelmingly positive, with Bruno Tonioli saying: "That really was a crowd-pleasing, show-stopping delight. Take it to Broadway. It really was a theatrical masterpiece. Beautiful!"
It was then the turn of Charles Venn and his partner Karen Clifton to face the judges, dancing a slow, romantic rumba to Maria from West Side Story. Venn was the first man of the competition to take on this style of dance. The judges awarded him 35 points.
Strictly's 11th week also saw Pussycat Doll Ashley Roberts return to form after ending up in the dance-off against Graeme Swann last weekend. This week, she quickstepped to Don't Rain On My Parade from the musical Funny Girl alongside her partner Pasha Kovalev, earning a score of 38.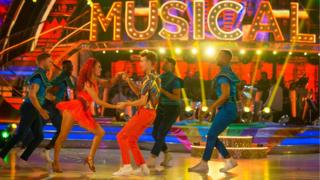 Guy Levy/BBC
Stacey Dooley and Kevin Clifton danced the American smooth to I Dreamed A Dream from Les Miserables. They also received 38 points from the judges, with Darcy Bussell saying: "You know there are some times in our life when we do something so wonderful and capture it in our hearts and it stays there forever. I loved everything from the beginning to the end, and you stayed in character."
The final couple to perform were Joe Sugg and Dianne Buswell who danced a vibrant salsa to the Joseph Megamix from Joseph And The Amazing Technicolor Dreamcoat. Tonioli said: "I think your dreams really have come true. All the sparkling energy of the salsa, but you really had the magic charm of Joseph. Andrew Lloyd Wonderful!"
It was Charles Venn and his professional partner Karen Clifton who went up against Ashley Roberts and her professional partner Pasha Kovalev in the dance-off on Sunday night. Both couples performed their routines again in a bid to impress the judges and remain in the competition.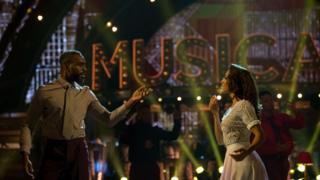 Guy Levy/BBC
Judges Bruno Tonioli, Darcey Bussell and Craig Revel Horwood all decided to save Ashley and Pasha. Head Judge Shirley Ballas said she agreed with her fellow judges and would have saved them too.
When asked by Tess about his time on the show, Charles said: "I am so thankful and appreciative of this opportunity. I've learnt so much about myself. I now know I can do a bit of ballroom and Salsa. I'm so thankful."
There was another Strictly first in week ten - the Lindy Hop-a-thon.
All of the remaining couples danced at the same time to try and win more points.
Thankfully none of the dancers crashed in to each other but the judges were left in a bit of a muddle as they struggled to hand out the scores! Eventually it was revealed that Ashley and Pasha came out on top while Lauren and AJ came last.
Each couple did their own dance too, with Faye and Giovanni taking on the waltz to top the leader board with 39. They'd had to change their routine mid-week after Giovanni hurt his back in rehearsals, so it was particularly impressive that they scored so highly.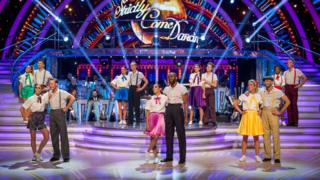 Stacey and Kevin also got their highest score yet with 39 too, for their moody Paso Doble.
Joe and Dianne did an amazing street and commercial routine to Jump Around - complete with basketballs! - while Lauren and AJ received the lowest score of the night for their salsa.
But the public kept them out of the dance-off and it was Graeme and Oti, and Ashley and Pasha who went head-to-head on Sunday night.
All of the judges chose to save Pashley. After the result, Graeme even said: "I'd have voted for Ashley and Pasha as well.
"This whole experience I will never forget and Oti I will never forget you, you absolute hero. To be honest - let's face it - when you get down to the nitty gritty of this competition, I was on borrowed time, unless I learnt to fly or something I wasn't going to past here!"
Week nine saw the remaining couples give it their all at the iconic Blackpool Tower special.
But unfortunately, it was the end of the Strictly journey for Kate Silverton and her professional partner Aljaz Skorjanec after they became the latest couple to leave the competition.
Ashley Roberts wowed the judges with her jive to Shake Ya Tail Feather by The Blues Brothers and was top of the scoreboard with a total of 40 points - the first perfect score of the series.
They earned the famous "fab-u-lous" from judge Craig Revel Horwood and Bruno Tonioli said they made "Strictly history" with their show-stopping performance.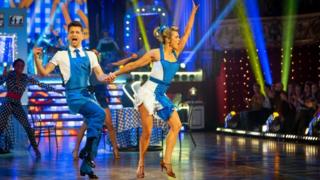 Guy Levy/BBC/PA
Charles Venn and Karen Clifton earned a score of 38, putting them in joint second place, for their sizzling samba which saw the actor dubbed "King Charles I of Samba" by Bruno.
Stacey opened the show by coming down from the ceiling on a giant stick of Blackpool rock. We hope she wasn't scared of heights!
Joe Sugg was left emotional after earning the show's third score of 38, dancing the quickstep with Dianne Buswell, while his grandmother watched from the audience.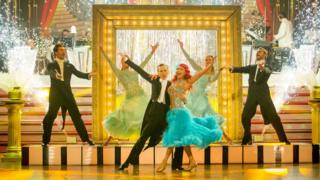 Guy Levy/BBC/PA
Graeme Swann steered clear of the bottom two this week, with a confident couple's choice theatre and jazz number with Oti Mabuse. Swann said: "I don't think I've ever had this much love in 90 seconds." But it wasn't enough to keep him out of the dance-off on Sunday night.
Fortunately for Graeme, though, all of the judges chose to save him and Oti, over Kate and Aljaz.
After learning that her Strictly time had come to an end, Kate said: "Not that I would have wanted to go out, but on a night like tonight in such a place, I couldn't have asked for anything better really. I got to dance twice, went up in a hot air balloon twice, and I loved it twice."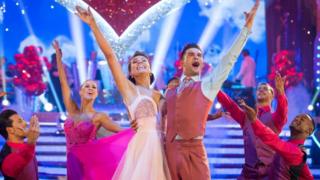 Guy Levy/BBC/PA
Saturday's show kicked off with a wedding (well, sort of!) as Kate and Aljaz quickstepped their way around the floor.
They scored 30 but, with the standard getting higher each week, this left them one from bottom of the leader board, just ahead of Danny and Amy on 27.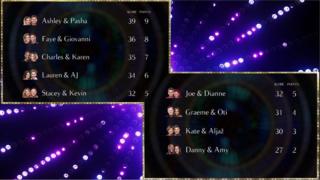 The dance of the night was Ashley and Pasha's Couple's Choice contemporary dance, which she dedicated to her father, who passed away earlier this year. Head judge Shirley was brought to tears by the beautiful performance and the couple scored an impressive three 10s once again.
We were all given quite a work-out with Graeme and Oti's fitness-themed salsa, which Craig described as "one of the oddest salsas [he's] ever had the pleasure of witnessing on this show". He still scored it a seven though!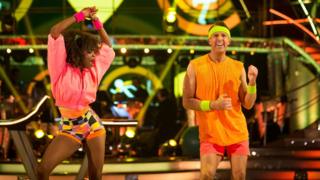 But it was Danny and Graeme who found themselves in the dreaded dance-off.
Craig chose to save Danny and Amy, but all of the other judges voted to keep Graeme and Oti in the competition, meaning that Danny will not be heading to Blackpool, unfortunately.
Danny told Tess: "It's been a great experience and I'm just so unhappy I didn't get Amy to where she needed to be. I just think that as I said before, everything I have done on this show is because of Amy. It was her training, her choreography that got me here."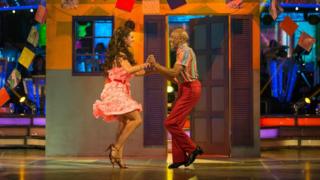 PA
Sunday night's show also saw a special Remembrance Day performance from the pro dancers alongside the RAF Spitfires Choir and the women of the RAF in a tribute to the Royal Air Force.
The remaining eight couples will now all be heading to the special Blackpool Tower ballroom next Saturday to fight for their place in the competition.
Starting off with a bang were Lauren and AJ with a rocking Jive to Avril Lavigne's Girlfriend. The pair had a good energy and were scored highly, but Darcey thought that Lauren didn't have the attitude expressed in the song.
Graeme and Oti did an emotional Waltz to Engelbert Humperdinck's The Last Waltz, dedicated to Graeme's grandparents and the judges certainly felt he had upped his game. Charles and Karen's Waltz to Piano Man was complimented and saw him with solid scores from all the judges.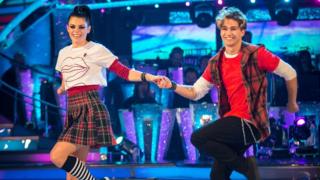 Kate and Aljaz pulled off an impressive Tango despite having hurt her rib the previous night, but the judges weren't sure it quite worked. Second Tango of the night came from Faye and Giovanni - she pulled it out the bag - or out the box should we say?
Meanwhile, Ashley and Pasha's Foxtrot pleased the judges - they were awarded a huge score of 39! However, Danny and Amy's quickstep to Freedom by Pharrell Williams was perhaps a bit too free. The judges were not impressed with his usually good footwork and he received a 4 from Craig.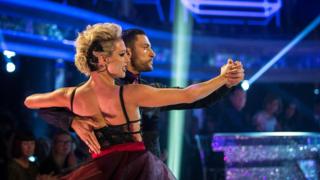 Dr Ranj and Janette were also feeling free dancing the samba to a George Michael track with winning smiles and lots of energy. He got a decent score - 6,7,7,7 - from the judges, even though they noted that there were some technical issues. But Sunday was not his night, after both Charles and Dr Ranj received the lowest public vote.
With his partner Janette, they made a valiant effort in their head-to-head dance off with Charles and Karen, but unfortunately for Dr Ranj, three of the judges voted to save Charles and so it was the end of his Strictly journey.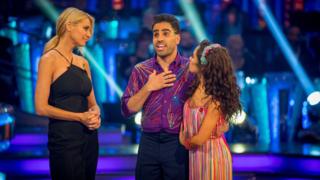 When Tess asked Dr Ranj how he felt about leaving, he said: "I can't express how much this has meant to me. I have made friends for life. I've done something that I only could have dreamed of."
"I just want to say to anyone who ever dreams of this you can, you really can, 'cause I'm here and I've done it."
The contestants traded in their usual sequined costumes for something a bit more frightening in this week's Halloween extravaganza. There was the Evil Queen from Snow White, a Cyberman from Doctor Who, zombies, monsters and even a troll!
Ashley Roberts and Faye Tozer both scored triple 10s and tied at the top with highest scores of series, after Ashley's troll-inspired Charleston wowed the judges.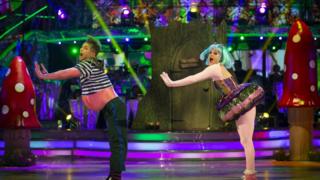 Judge Bruno Tonioli said: "Astonishing. That was a magical spell-bounding, exuberant, action packed comedy of a Charleston. It will be one of the best strictly moments of the season."
Week seven also saw the first theatre/jazz routine in Strictly history, danced by Faye in a Couple's Choice.
On Sunday night, it was comedian Seann Walsh who faced Graeme Swann in the dreaded dance-off.
Both couples performed their routines again, Graeme and Oti performed their Cha Cha to Thriller by Michael Jackson and Seann and Katya performed their Viennese Waltz to I Put A Spell On You by Screamin' Jay Hawkins, in a bid to impress the judges and remain in the competition.
Judges Craig Revel Horwood, Darcey Bussell and Bruno Tonioli all chose to save Graeme and Oti. Head Judge Shirley Ballas didn't have to cast her vote but said she would have saved Graeme and Oti too.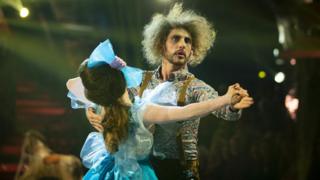 So, despite giving it his all, it was Seann who became the fifth celebrity to leave the competition.
Craig said: "I think both couples did the best they could possibly do and it was better than their other performances. But one couple for me had timing issues, the other couple had placement issues but the dance that I liked the most and the couple that I'd like to save is Graeme and Oti."
Sean said "It's an absolute miracle that I've gotten this far. It's been a dream come true."
We saw the show's first ever Couple's Choice dances and whilst usual judge Bruno Tonioli was away, he was replaced by guest judge Alfonso Ribeiro.
Alfonso won the US version of the show Dancing with the Stars in 2014.
Despite getting her highest score of the competition last week, on Sunday night Vick was voted out of the competition.
Things were a bit different this week with a guest judge on the panel and some new dance styles.
Paralympian Lauren Steadman and AJ Pritchard did the show's first ever Couple's Choice, dancing a contemporary routine.
Desperate to avoid a third week in the dance-off, actor Charles Venn and his partner Karen Clifton also took on a couple's choice doing a street/commercial style dance and the judges LOVED it! Alfonso told him he was now "a contender to win this thing".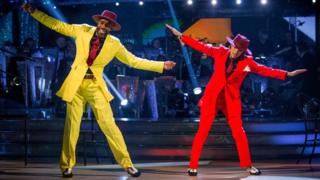 AFP
Dr Ranj opened the show with an American Smooth which head judge Shirley Ballas described as "beautiful" and "sunny".
There was the first 10 of the series too! Darcey Bussell gave it to actor Danny John-Jules for his high-energy jive.
Stacey Dooley was covered in feathers for her samba with Kevin Clifton. Craig Revel Horwood told her he wanted to book her for his next party. We're not sure if that's a good or a bad thing!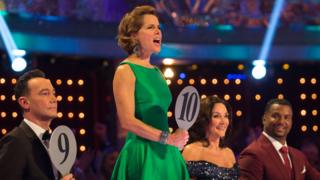 BBC / Guy Levy
And Youtuber Joe Sugg had a visit from his sister Zoella during training, giving him a boost ahead of his waltz with Dianne Buswell. Craig Revel Horwood told him he was "one to watch". We might still get to see him with red hair then!
Radio presenter Vick Hope and comedian Seann Walsh faced each other in the dreaded dance-off, but sadly Vick and her partner Graziano Di Prima's cha cha wasn't enough to save her and she became the fourth celeb to leave the competition.
Vick said: "I've loved it. I've had the time of my life so I want to thank everyone for being the best possible people I could spend all this time with. Thank you Graz, you've been so patient with me and helped me so much, I've loved every last second of it so thank you."
We got to see the first rumba of the series from Faye and Giovanni and a birthday cake getting well and truly destroyed by a certain Mr Clifton.
It was a fantastic week for Vick and Graziano who bagged their highest score to date with a super speedy quickstep.
Still, it wasn't enough to take them to the top of the leaderboard on Saturday night, after birthday boy Kevin and his partner Stacey secured their first nine of the series for a 60s-inspired foxtrot.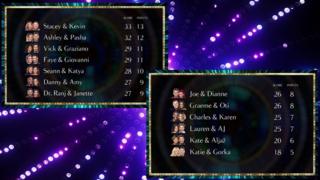 BBC Strictly
Our usually smiley Dr Ranj showed us his serious side with a seriously impressive paso, while Graeme and Oti's costumes were absolutely out of this world.
But week four wasn't meant to be for Katie and Gorka, who found themselves in the bottom two after dancing a jive to Why Do Fools Fall In Love by Frankie Lymon.
They came up against Charles Venn, who was defending his second dance-off in a row, after finding himself in the bottom two against Lee Ryan in week three.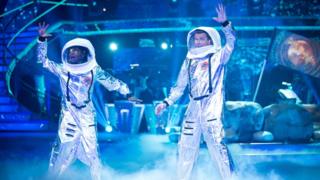 BBC Strictly
Unfortunately for team Gorka, all four judges chose to save Charles and his professional partner Karen.
Katie said: "I have taken a lot from this experience and it has all been really positive, and I'll never forget this journey. Charles was the better dancer out of us two and there are some brilliant dancers in this competition.
"I have had a great experience you know and I feel really privileged to have been here!" We've loved watching you, Katie!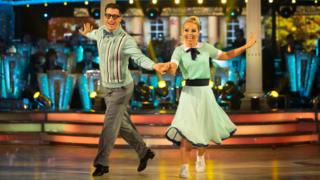 BBC Strictly
The glitz and glamour of movie week's Saturday night didn't disappoint with one of the best opening dance routines ever (yes, it was Harry Potter-themed) from the professionals.
Then, the celebrities really pulled it out of the bag too! Graeme hung from the ballroom ceiling upside down, Joe broke free (see what we did there) as High School Musical got the Strictly treatment, and Seann FLEW, scoring his first 7s and 8s of the series.
Meanwhile, Dr Ranj was transformed into the Disney prince Aladdin, Vick gave us some Mamma Mia magic and Lee smashed a futuristic cha cha cha.
Unfortunately for Lee, though, Sunday night saw him become the second Strictly star to be eliminated from the competition, after he found himself in the bottom two against Charles Venn.
It was the second week in a row that the singer found himself in the dreaded dance-off - this time for his Back to the Future-inspired dance routine.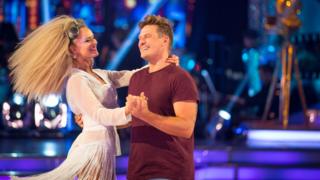 BBC Strictly
He told Tess afterwards: "I've had a really lovely time. Even though it's been short, it seems like I've been here a long time because it's been so intense. It's been amazing." We'll miss you, Lee!
There was plenty to talk about from week two, even though it is so early on in the series.
Team Pashley dazzled the judges dressed as glitterballs and scored the very first 9 of the series. Their sparkly cha cha cha took them to the top of the leaderboard.
Meanwhile, Seann and Katya took a risk. They danced a jive to Elton John's I'm Still Standing. Back in the second series of the show (how long ago was that?!), actress Jill Halfpenny did exactly the same thing and scored a perfect 40! Regrettably, Seann couldn't quite manage that and came away third from bottom - eek!
Kate's tango (inc full-on tango face) impressed everyone, as did Vick and Faye's gorgeous waltzing. Next week, it's movie week! We can hardly wait.
Sunday night also saw the first elimination from the ballroom, as Susannah Constantine and her professional partner Anton du Beke left the competition, after facing Lee Ryan in the dreaded dance-off.
She said: "I know it has gone a bit quick, but you know what I just feel so lucky to have had three weeks learning to dance with Anton and to have met all these amazing people.
"I feel really privileged to have met them all, and it has been amazing!" We're sorry we won't see you in movie week, Susannah!
Well, week one has been quite the whirlwind, but fortunately for all of the Strictly couples, nobody got voted off, so it's full steam ahead to week two and the public vote.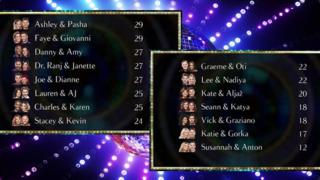 BBC Strictly
Even though viewers weren't able to pick their favourites, the judges still scored the dances and these scores will carry over to week two. This is bad news for Susannah and Anton, who scored a low 12 for their samba - even getting a 1 from Craig. Oh dear!
Ashley and Pasha, and Faye and Giovanni should be feeling fairly confident though as they came out joint top of the opening leaderboard with 29 points, followed by Danny and Amy, Dr Ranj and Janette, and Joe and Dianne all with 27.
Stacey and Kevin impressed everyone by becoming the very first couple in Strictly history to take on a quickstep in week one. So brave!
Will the same couples impress next week? We'll have to wait and see.