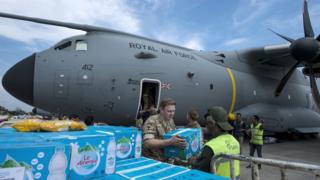 Ministry Of Defence
UK aid supplies have arrived in Indonesia on board an RAF plane.
On board are thousands of shelter kits, solar lanterns and water purifiers that have been sent to the disaster zone.
There's also trucks and power generators to help get the supplies to where they're needed.
A huge earthquake struck Indonesia in Southeast Asia on Friday 28 September.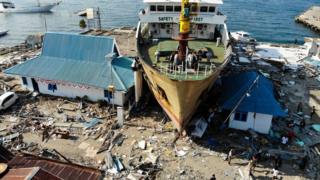 Getty Images
The 7.5 magnitude earthquake hit only six miles from the country's coast, and triggered a tsunami - a huge wave which hit the coastline.
The tsunami was about six metres high, which is about the height of a small house.
Officials say more than 1,400 people are known to have died, and the city of Palu has been very badly damaged.
Aid supplies have been arriving in the city, where survivors have had no access to running water or electricity.
Rescuers are still trying to reach remote areas in Sulawesi, an Indonesian island cut off by the earthquake.
Landslides, downed communications networks and collapsed bridges have made it hard for aid workers and rescuers to reach rural areas.
Some people in the area are angry they have not yet received help, and say the country's President is only being told about the problems in Palu.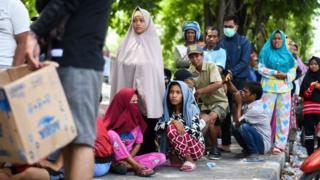 Getty Images
The entire disaster zone is home to 1.4 million people and at least 70,000 have gathered in evacuation sites across the island.
The UN has warned that large parts of what might be the "worst-affected" areas have not been reached.
"But the teams are pushing, they are doing what they can," UN humanitarian spokesperson Jen Laerke said late on Tuesday.
Fears remain that the death toll could grow significantly higher as new areas are reached.
The United Nations Office for the Co-ordination of Humanitarian Affairs says there are nearly 200,000 people in urgent need of assistance, about a quarter of them children.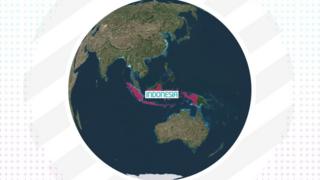 Newsround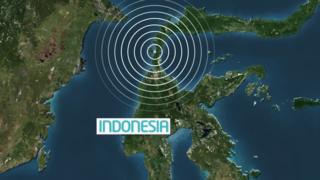 Newsround
Help and supplies are being flown from Indonesia's capital city Jakarta to the island of Sulawesi.
However, bridges have collapsed and many roads are blocked.
One of the airports has also suffered lots of damage, meaning that it is has been very hard to get supplies and help to the area.
Thousands of people have been trying to leave the area, and on Monday, 3,000 to 5,000 people who wanted to be evacuated from Palu swarmed the airport hoping to hitch a ride on a military plane.
The military arranged for them to leave on ferries instead.
UK-based charity Save the Children is also sending a team out to Indonesia to help.
In the city of Palu, many people are sleeping in the open air as they are worried about more buildings collapsing.
And due to hospitals being damaged, people are receiving medical treatment in the open.
What is an earthquake and how does it cause a tsunami?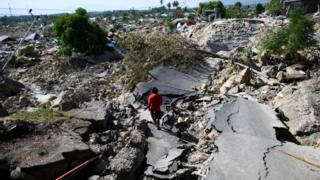 Getty Images
Earthquakes are caused by pressures on the outer layer of the the Earth, called the crust.
The crust of the Earth moves and this movement can cause a build up of pressure, which leads to fractures and tremors at 'weak points' where the rock is under stress.
As a result, shaking might be felt on the earth's surface or even cracks (known as fault lines) appearing.
There are thousands of earthquakes that happen every day, and the majority of them are harmless.
However, the earthquake near Indonesia was a very serious earthquake which caused very large tremors.
These large tremors caused lots of damage to buildings, and also brought about another natural disaster - a tsunami.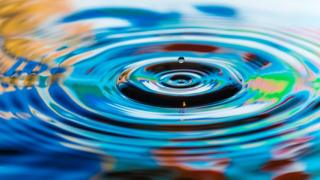 kertlis
A tsunami is caused when lots of water is moved or displaced by an earthquake.
When an earthquake causes large tremors, it moves water very quickly creating a ripple outward of very large waves.
The effect is similar to when you drop a stone in water and see the ripples move outwards - but on a much larger scale.
These waves can have a devastating effect - destroying buildings and infrastructure, and flooding large areas.
They often move very fast and are not easily seen until they reach coastlines.
What happened in Palu?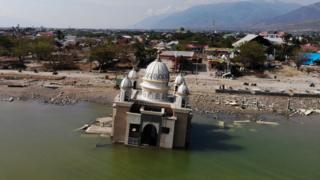 JEWEL SAMAD
On Friday evening, at around 6pm, an earthquake hit the city of Palu, in Indonesia.
The centre of the quake was just off the coast, underneath the sea. This meant a tsunami warning was issued to everyone in the area.
A tsunami is a huge wave triggered by an earthquake. But there wasn't enough time for lots of people to get to safety before the wave hit.
The charity, the Red Cross, believes more than 1.6 million people have been affected by what's happened - with many people having to camp outside because their homes have been destroyed.
Strong aftershocks hit the island on Saturday after Friday's earthquake.