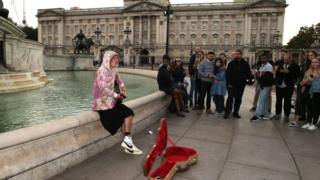 Getty Images
It's what everyone is talking about - have Justin Bieber and Hailey Baldwin got married?
They are in London at the moment and if you happened to be strolling past Buckingham Palace yesterday, you might have had a bit of a surprise.
Because this very casually dressed busker sitting by the fountain is none other than Justin Bieber.
Fans gathered round to listen as he played some of his recent hits, including an acoustic version of Cold Water.
Hailey Baldwin was there watching too, and proudly filmed on her phone.
But the question is is she his fiancee or his wife?
Have these two secretly tied the knot?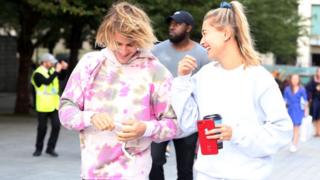 Getty Images
They got engaged earlier this year, and now people have been wondering whether this London trip is their honeymoon.
It is equally possible though that the couple are just doing some sightseeing after Baldwin's catwalk show during London Fashion Week.
But rumours are everywhere, and there are lots of conflicting reports about the situation.
So let's look at the evidence for ourselves...
EXHIBIT A. The possible ceremony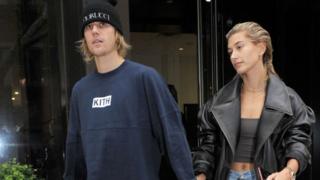 Getty Images
Last week, it was rumoured that Bieber and Baldwin had secretly married after they were seen in a New York City courthouse.
But did a wedding happen behind the closed doors, or were they just there to pick up some marriage-related paperwork?
An onlooker told entertainment gossip site, TMZ, Justin was crying as he walked into the building, telling Hailey, "I can't wait to marry you, baby."
Perhaps though, he was just thinking ahead to their future wedding.
EXHIBIT B: The "I'm not married yet!" tweet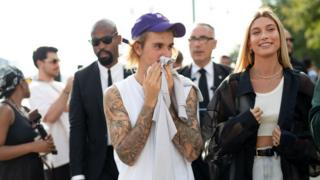 Getty Images
Hailey herself went on social media to deny the wedding ceremony had already happened.
She wrote: "I understand where the speculation is coming from, but I'm not married yet!" - but then deleted the tweet not long afterwards.
Hailey hasn't managed to convince everyone though.
US magazine People claim the couple are legally married but that Hailey doesn't consider herself officially married yet.
It says that's because she "feels a civil ceremony and their 'real' wedding are two separate things".
Then it got even more confusing when this happened...
EXHIBIT C: Hailey's uncle said they ARE married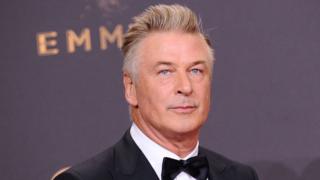 Getty Images
On Monday night at the Emmy Awards, Hailey's uncle, Hollywood actor Alec Baldwin, was asked about his niece's engagement.
There was no beating around the bush with him.
He insisted Hailey and Justin were already husband and wife, after getting married in New York last week.
Alec apparently told entertainment news site Access: "They just went off and got married."
It looks like maybe the couple are trying to keep things low key... but maybe forgot to tell Uncle Alec to keep it quiet.
Or else he just likes to keep the rumour mill going.
EXHIBIT D: No wedding rings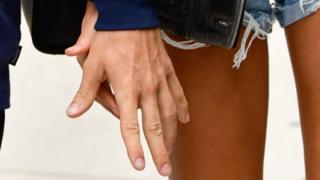 Getty Images
Hailey is still wearing her engagement ring, but neither her nor Justin have been seen wearing any other rings since leaving the courthouse in New York, or during their London trip.
But does this prove anything?
Is it because Hailey doesn't feel she's had her 'real' wedding yet? Or is her massive engagement ring enough jewellery to wear in one go?
Looks like we might just have to hold tight to find out.
Justin and Hailey did originally try to keep their engagement a secret.
He later confirmed the news in an Instagram post, writing "Was gonna wait a while before saying anything, but word travels fast".
Maybe he'll do the same this time around. Or maybe we'll only find out when the 'real wedding' happens.
Either way keep your eyes peeled!