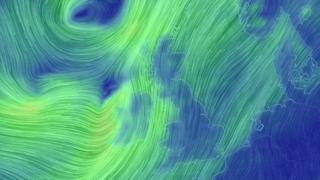 earth.nullschool.net
A clean up operation is taking place in Northern Ireland, Scotland and Northern England after a storm there.
An amber weather warning was put in place as Storm Ali brought winds of up to 100 mph.
Children in Dumfries and Galloway were told not to walk home from school because of the amount of debris blowing around in the wind.
Tens of thousands of people were without power. Electricity companies say most have now been reconnected.
Two people died in the storms. A woman was killed in the Republic of Ireland after a caravan was blown off a cliff. A man died in Northern Ireland after being hit a tree.
Storm Ali is the UK's first named storm of the season, with storm Helene which hit Wales on Tuesday having taken its name from a US hurricane.
Have you been affected by Storm Ali? Let us know in the comments below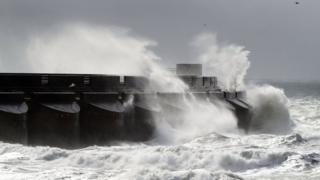 PA
Lots of trains were also delayed or cancelled because trees were blown onto railway lines.
A 102mph gust was recorded on the Tay Road Bridge between Dundee and Fife at 15:00.
But Storm Ali was not as strong as recent extreme weather around the world, such as Typhoon Mangkhut in Asia and Hurricane Florence in the United States.