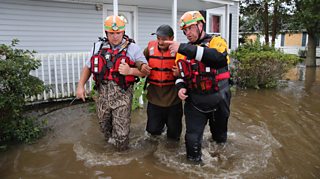 Hundreds rescued as US flooding continues
Storm Florence continues to cause massive floods in the United States after hitting the country last week with an "epic amount of rainfall".
Emergency crews have rescued more than 900 people in North Carolina as floodwaters continue to rise.
Officials say the deadly storm has left at least 23 people dead.
BBC reporter Paul Blake is in the United States and sent Newsround this update.