Major rescue and clean up operations are underway across the Philippines, China and Hong Kong in Asia following Typhoon Manghkut.
It is one of the most powerful storms to hit the region in 40 years.
In southern China, around 2.5 million people were evacuated before the storm hit.
At least 65 people are now known to have been killed in the Philippines, many in a huge mudslide in the mountain town of Itogon.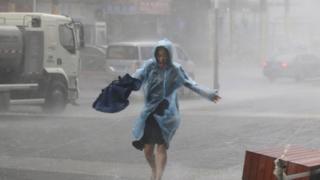 Reuters
In Hong Kong, the storm wrecked buildings and shut down the city.
Shelters have also been set up for those affected.
Manghkut, which has now been downgraded to a Tropical Storm, is expected to hit the Chinese regions of Guizhou, Chongqing and Yunnan later in the day.
How has China been affected?
Typhoon Mangkhut made landfall on the Chinese coast near Jiangmen city on Sunday afternoon.
Officials put the number of injured in Hong Kong at more than 200.
Despite avoiding a direct hit, winds there reached more than 110mph and as water levels rose by almost 3.5 metres in places.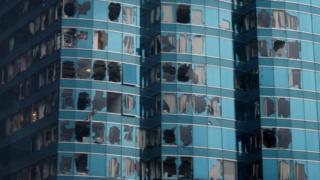 Reuters
Authorities had warned residents to stay indoors and away from windows to avoid flying debris.
Most shops and public services were shut.
Transport services have also been suspended, with flights cancelled, trains stopped and major roads closed.
What about the Philippines?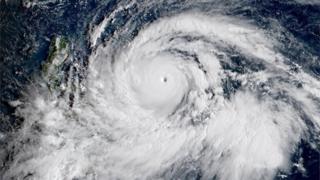 AFP
The storm moved across the main Philippine island of Luzon over the weekend.
Most of the deaths there were caused by landslides, government officials say.
Dozens of people are still missing after the storm, which is being called Ompong locally.
In the mining town of Itogon, at least 33 miners died after being buried under a landslide.
The Philippines is regularly hit during the typhoon season.
The deadliest storm on record in the country was Super Typhoon Haiyan.
It killed more than 7,000 people and affected millions in 2013.
Preparation and evacuation procedures have improved since Super Typhoon Haiyan with the government issuing warnings, restricting travel and shutting schools in advance.