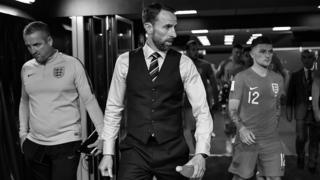 Getty Images
If you were watching England play Switzerland on Tuesday night, you might have thought your telly was broken.
For the first 25 seconds, the picture on your television switched from colour to black and white as the teams walked onto the pitch at Leicester's King Power Stadium.
The colour change was to mark 25 years of Kick It Out - a campaign against racism and discrimination in football.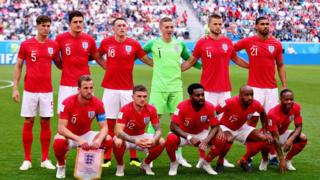 Getty Images
In the 1990s players, clubs and fans got together to start a campaign to try to get rid of racism in football.
Many football clubs in Britain had players of many different races and backgrounds in their teams.
Many of these footballers faced abuse from fans and even other players.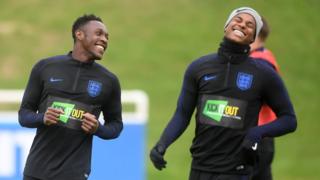 Getty Images
The campaign was first called Let's Kick Racism Out of Football, but in 1997 the name was changed to Kick It Out.
It now stands against abuse and discrimination of players and fans of all backgrounds.
England manager Gareth Southgate says it's important to recognise the "great work of Kick It Out over the last 25 years."