This family love to sing together when they're out in the car.
But dad Huw and his kids - seven-year-old Osian and five-year-old Seren - never thought it would get them so much attention.
This video of the family from Conwy doing their very own car karaoke has so far had more than 200,000 views on social media.
Their version of Welsh folk song Yma o Hyd has won them fans all around the world.
Dad Huw says he only recorded the video because Osian wanted to show his friends.
But it's got us thinking, do you do anything similar to pass the time on the way to school?
Do you have a family sing-along like this lot? Or maybe play a game when you're stuck in traffic?
Or is there something completely different you do on the journey - for example do you insisting on skipping with your Mum and Dad the whole way?
Let us know in the comments, and send us your videos of you doing it.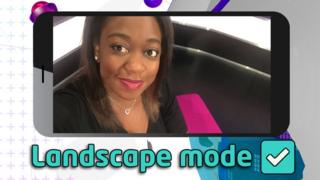 Just make sure if an adult is recording, they're not driving at the same time.
When you have finished your recording, just email newsroundcomments@bbc.co.uk with a 10 second clip.
Don't enhance your video or do any editing - leave that to us.
You must ask your parent, teacher or guardian for permission before you send us a video.
We may show your video on our website or in our TV bulletins. We'll show your first name and which town you're from - but we won't use your details for anything else.