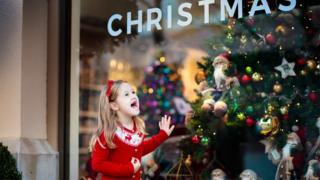 Getty Images
There are more than three months to go until Christmas - so no rush to send your letter off to Father Christmas just yet!
But some shops are so excited for the festive season they've already got Christmas cards, decorations, and Christmas food on sale.
A few weeks ago, a Tesco supermarket in Cambridge even put their own big Christmas tree up outside the store - with 117 days to go until 25 December.
Shoppers were a bit confused - but it turned out the tree was just there temporarily, while they filmed a Christmas advert.
Even so, with other big annual events like Halloween and Guy Fawkes Night still to come, is it too early to start getting in the mood for Christmas?
Let us know what you think in the comments.