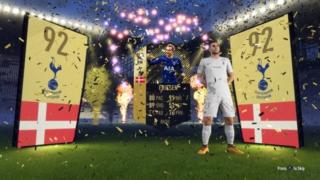 Fifa/EA Games
Games like Fifa and Overwatch are well known for their loot boxes and player packs.
However, earlier this year the Belgian government declared loot boxes - which includes things like Fifa's player packs - to be a form of gambling, which is illegal for under 18's.
That has lead to lots of gaming companies removing loot boxes from their games to make sure they stay on the right side of Belgian law.
But Electronic Arts (EA), who make Fifa, have refused to remove its player pack from Fifa 18 and the soon-to-be-released Fifa 19 - and according to some reports it could face an investigation.
Back in April, Belgium's Gaming Commission ruled that loot boxes were an "illegal game of chance", because players don't know exactly what's in a box when they buy it.
That means they are subject to Belgian gambling laws, and failure to prevent under-18s from accessing loot boxes is against the law.
EA argue that FIFA's Ultimate Team packs are the equivalent to buying a packet of Panini football stickers - because just like with Fifa's player packs, you aren't sure what 5 stickers you'll get in the sticker pack.
EA Sports CEO Andrew Wilson says he doesn't agree that its games could "be considered as any form of gambling".
He argues that because players "always receive a specified number of items in each pack", and "don't provide or authorise any way to cash out or sell items or virtual currency for real money", they are not "an illegal game of chance".
Since the announcement in April, companies like Valve and Blizzard, which makes Overwatch, have disabled loot boxes in their games in Belgium.
But EA hasn't made any changes.
What's the law in other parts of the world?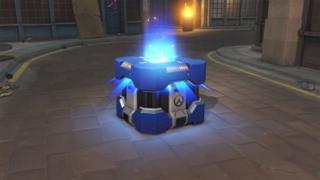 Overwatch/Blizzard
Earlier this year we told you about concerns by some groups here in the UK, that some in-game purchases are really gambling in disguise.
Parliament debated the issue last year after a petition with more than 15,000 signatures was brought to their attention.
MPs decided against classing loot boxes as a form of gambling, saying "The Gambling Commission is keeping this matter under review and will continue to monitor developments in the market".
The US takes a similar view to the UK.
The Entertainment Software Ratings Board - which sorts out things like age ratings on video games - has said it does not consider loot boxes to be gambling, as "the player is always guaranteed to receive in-game content (even if the player unfortunately receives something they don't want)".
But in China things are more strict. There are now rules that mean gaming companies have to show what the chance of getting rare items in loot boxes actually is, so that players know what to expect before paying.