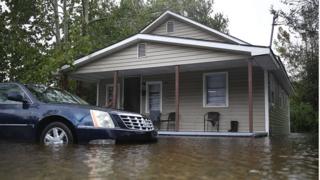 Joe Raedle
Tropical storm Florence continues to cause tremendous damage to parts of the Carolinas where it first struck as a Hurricane on Friday.
Crawling inland at 35mph, it is feared more communities will be flooded by the rain it is bringing with it.
"This system is unloading epic amounts of rainfall," North Carolina Governor Roy Cooper said on Saturday.
He told residents in areas affected not to return to their homes as it is still dangerous, with "all roads in the state at risk of floods".
US media reports at least 12 people have died in the storm.
President Donald Trump has declared it as a disaster, which means more money can be distributed to help areas most in need. He is expected to visit the region next week.
What happened?
Hurricane Florence made landfall on the US East Coast on Friday morning, bringing with it winds, heavy rains and the risk of serious floods.
The centre of the storm struck Wrightsville Beach in the state of North Carolina, with winds of up to 90mph.
Now downgraded to a tropical storm, Florence continues to grind its way across the east coast area.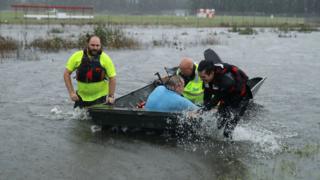 Getty Images
Whilst the winds aren't quite as strong as they were, the risk to people living in the areas in Florence's path is flash-flooding, caused by the huge amounts of rain already soaking the region, as well as storm surges.
This is caused when high tides and rising waters from the shoreline work their way inland, "reversing" the flow of rivers and flooding normally dry areas.
Some parts of North Carolina have seen surges as high as three metres in places, devastating people's homes and businesses. Meteorologists have warned floodwaters could rise up to four metres in the coming days.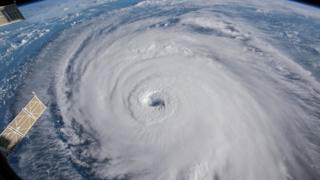 Reuters
Over 800,000 homes and buildings have lost power across North Carolina, according to the state's emergency management agency, who say it could take days, if not weeks, to restore electricity supplies.
More than a million people along the coastlines of North Carolina, South Carolina and Virginia were ordered to evacuate earlier this week.
Thousands of people took shelter in emergency facilities with photographs showing families crowded into corridors with blankets on inflatable mattresses and mats.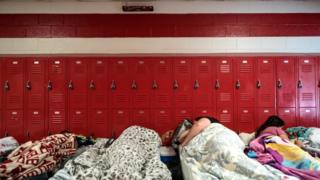 EPA
Ahead of Florence's arrival schools in affected areas were closed and people were stocking up on essential items like batteries, flashlights, plastic tarpaulins and sandbags.
Over 1,400 flights have been cancelled, according to FlightAware.com, as most of the coastal region's airports are closed to ride out the storm.
The combination of flooding, heavy rainfall and storm surges has lead weather forecasters to describe Hurricane Florence as a "monster" and the most powerful storm to threaten the Carolinas in almost 30 years.
Florence is expected to dump 18 trillion gallons of rainwater. Some areas of North Carolina saw almost 50cm of rain in just a few hours, and video footage showed sea levels begin to surge inland.
Emergency workers began arriving before the storm hit from other parts of the US to help in rescues.
US President Donald Trump has signed declarations of emergency for both North Carolina and South Carolina, freeing up money and resources for the storm response.
Speaking on Tuesday, Mr Trump said the government would spare "no expense" in responding to Hurricane Florence, adding the storm was "tremendously big and tremendously wet".