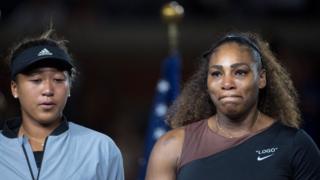 Getty Images
Saturday's US Open Women's Final was an historic moment, for more reasons than one.
Twenty-year-old Naomi Osaka took her first major competition title, making her the first Japanese tennis player to ever win a grand slam title.
But instead lots of attention has been focused on her competitor Serena Williams and her massive row with the umpire.
She was given several penalties for breaking rules, but Williams has argued she wouldn't have been treated so harshly if she had been a male player.
Here's how the drama happened...
1. Serena Williams was accused of being 'coached'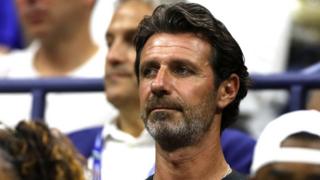 Getty Images
At this point in the match Osaka had already won the first set 6-2.
It was during the second set, umpire Carlos Ramos felt Serena's coach Patrick Mouratoglou was signalling tactics from the stands - which isn't allowed.
As a result Serena was given a code violation. But Williams said she didn't see any signals from her coach.
"We don't have any code [signals]," she told umpire Ramos. "I don't cheat to win. I'd rather lose."
Later on, the coach said he DID make hand signals but he didn't think Serena was looking at him.
2. Serena Williams lost a point after smashing her racket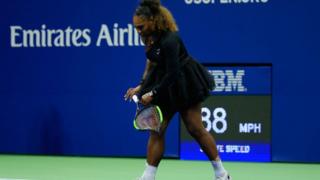 Getty Images
During the second set Serena Williams smashed her racket into the court after she lost a game.
That's called "racket abuse" and earned Serena another code violation.
Together with the first code violation (above) it meant a point was deducted.
But Serena Williams was still angry about the 'coaching' accusation. Waking towards the umpire's chair she said: "I have never cheated in my life!"
"I never got coaching. I explained that to you and for you to attack my character then something is wrong. You owe me an apology,' she told him.
Then she added: "You will never, ever, ever be on another court of mine as long as you live. You are the liar...you stole a point from me. You're a thief, too!"
3. Serena Williams then got a game penalty for 'verbal abuse'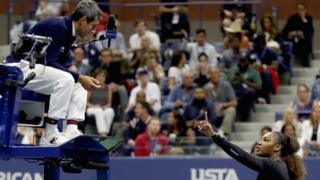 Getty Images
Because of these angry words, the umpire Ramos took a whole game from Serena, saying her outburst was 'verbal abuse'.
In the Grand Slam tennis rule book verbal abuse is explained as "a statement about an official, opponent, sponsor, spectator or other person that implies dishonesty, insulting or otherwise abusive".
Williams then said: "Are you kidding me? Are you kidding me? Because I said you're a thief. Because you stole a point from me."
After this happened Williams asked to speak to the tournament referee Brian Earley, and Williams accused the umpire of treating her unfairly because she's a woman.
She said that if she was a man, speaking to the umpire in this way would never have be punished by a game penalty.
In the end, both players carried on to the close of the match which Naomi Osaka won.
4. The trophy presentation was pretty awkward, with both players crying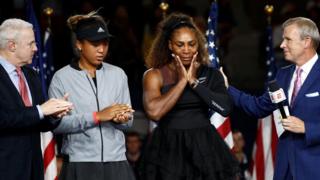 Getty Images
Osaka pulled down her black visor to cover her face and hide her tears, while boos rang around the stadium from the crowd who weren't happy about how things ended.
Serena then spoke to the crowd saying : "Let's not boo anymore. We're gonna get through this and we're gonna be positive. No more booing!"
When it was her turn to speak, Osaka said: "I know that everybody was cheering for her. I'm sorry it had to end like this."
Afterwards Williams said: "I felt bad at one point because I'm crying and she's crying. You know, she just won."
Osaka later added: "It was always my dream to play Serena in the US Open finals. I'm glad that I was able to do that."
Former Wimbledon champion Pat Cash said it was "the most bizarre match and presentation" he'd ever seen.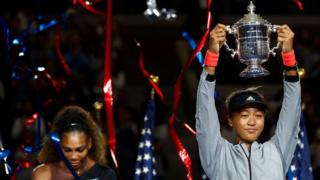 Getty Images
5. How have people reacted?
Williams has been fined $17,000 (£13,100) for smashing her racket, and verbally abusing the umpire.
But lots of people have been argueing about whether Serena Williams was behaving badly or was badly treated.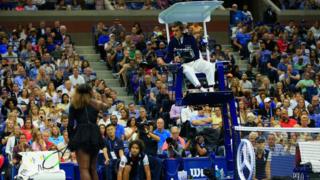 Getty Images
Tennis governing bodies
The United States Tennis Association (USTA), which runs the tournament, issued a statement later on Saturday backing the umpire Carlos Ramos. It said he acted "in accordance to the rules".
But their chief Katrina Adams did says there was some unfairness in how players are treated. She said: "There's no equality when it comes to what the men are doing to the chair umpires and what the women are doing, and I think there has to be some consistency across the board."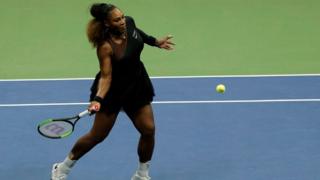 Getty Images
The Women's Tennis Association (WTA), the governing body of women's tennis, supported Serena Williams.
WTA boss Steve Simon said the umpire showed a different level of tolerance to how Serena reacted than if she had been a man.
Players and former champions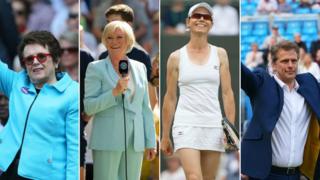 Getty Images
On social media former US Open champion Billie Jean-King said : "When a woman is emotional, she's 'hysterical' and she's penalized for it. When a man does the same, he's 'outspoken' and there are no repercussions. Thank you, Serena Williams, for calling out this double standard. More voices are needed to do the same."
BBC tennis presenter Sue Barker, also added: "I've sat courtside watching the men ranting at umpires and they haven't been given a violation."
But Zimbabwean doubles player Cara Black has said "I don't think sexism was a part in it". She says umpire Ramos was "just doing his job", and that Serena lost control of her emotions.
And former umpire Richard Ings, who used to be in charge of officials and rules on the men's tour, backed Ramos' actions:
"Carlos was composed, effective, knowledgeable of the rules and applied them absolutely correctly in each of those three situations... He saw violations, he had the courage of his convictions to call them when he saw it and I support him 110%."