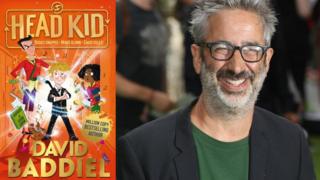 Harper Collins/Getty
Children's author David Baddiel has been to Newsround HQ to tell us all about his new book.
'Head Kid' is about a boy called Ryan who is the naughtiest kid at his school.
He magically swaps bodies with his strict head teacher, Mr Carter.
That sounds like it could be fun!
Unfortunately it happens just before the school is about to be inspected - what could possibly go wrong?!
We asked you what you would do if you were a head teacher for the day and you sent us loads of suggestions.
Some of your ideas included doughnuts for lunch, more playtime, as well as banning all talk about videogames.
But were your rules more like something head kid Ryan would say, or more like rules head teacher Mr Carter might introduce?
We asked David what he thought of your suggestions.