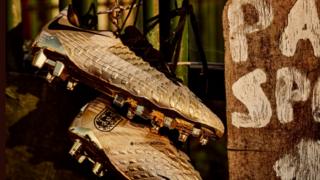 Twitter / Nike / Harry Kane
He was the top goal scorer of the 2018 World Cup, netting an impressive 6 goals for England and winning the honour of being named the Golden Boot of the tournament.
And as if a trophy to celebrate the achievement was not enough, England captain Harry Kane has been given some special golden boots to wear.
The special one-off pair of Nike football boots are golden - of course - and inside have been personalised with the words "Lane, Lion Leader".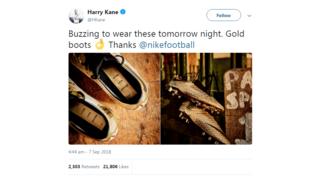 Harry Kane / Twitter
It's thought the words are a tribute to Spurs' old White Hart Lane stadium, the famous Three Lions of the England emblem, and his role as captain.
Relive Kane's 6 golden goal moments.
Kane says he is "buzzing" to wear the boots in England's first UEFA Nations League fixture with Spain.