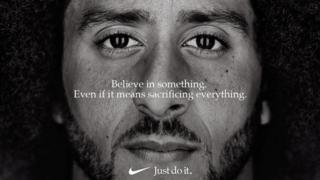 Reuters
Lots of people are burning, or getting rid of, their Nike products in protest of the sportswear brand's advertising campaign featuring American footballer Colin Kaepernick.
Why are US sports stars 'taking a knee'?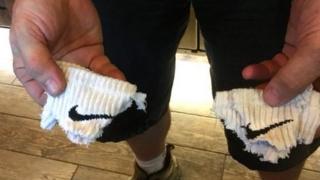 Twitter
Who is Colin Kaepernick?
Colin Kaepernick is an American sports star who used to play American football for the San Francisco 49ers in the country's National Football League - the NFL.
In 2016 he sat down during the national anthem which was being played ahead of a pre-season game in protest against racism, injustice and police violence in America.
In later games he decided to kneel instead in order to show more respect but to still protest.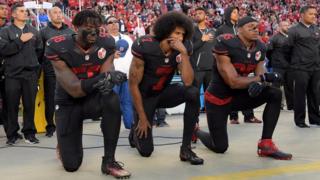 Reuters
Many other American sports stars copied him but the actions split opinion - some people supported the protest but others, including US president, Donald Trump, thought it was disrespectful.
Kaepernick hasn't played since 2017 and is currently suing the NFL claiming he's being kept out of the league by team owners because of his part in the protests.
What's it got to do with Nike?
Colin Kaepernick is the face of Nike's new advertising campaign that was launched in September 2018.
It marks the 30th anniversary of the company's "Just Do It" slogan.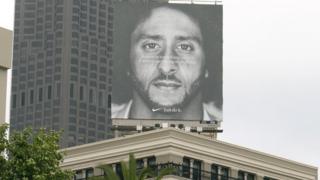 EPA
Just like Kaepernick's protest the adverts are dividing opinions.
Some people support the company using him and feel he is inspirational. Supporters include tennis star Serena Williams, who is also part of Nike's new advertising campaign.
But other people, including President Donald Trump, are angry that Nike chose Kaepernick.
To show their anger some people have burnt or got rid of their Nike products.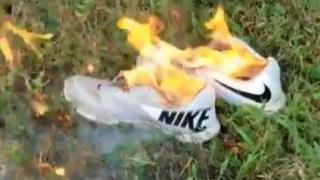 Twitter