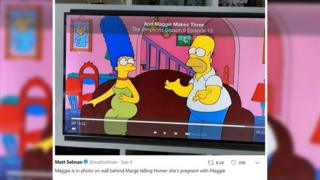 Twitter/The Simpsons/@mattselman
Did you spot this mistake in The Simpsons?
Executive producer of the show Matt Selman shared a moment in one of the programme's episodes, which he says shows a mistake!
In the episode, Marge is seen sat on the sofa telling Homer that she is pregnant with their third child Maggie - but it appears there's a photo of Maggie on the wall in the background! D'oh!
Some people replied saying it could be Lisa as a baby as they looked similar when they were babies.
What do you think? Had you already spotted this? Let us know in the comments below!