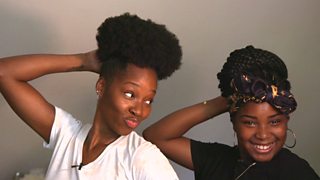 Jamelia: I wanted to look like my idols
September 15th is World Afro Day.
It's a day where people are encouraged to celebrate kinky, coiled or curly afro textured hair and to learn more about it.
The aim of the day is to give people with afro hair the confidence to wear it the way they like so that they don't feel pressure to straighten it.
Founder of World Afro Day, Michelle De Leon believe's that there are not enough examples of natural afro textured hair being celebrated in adverts, movies and even music.
And she isn't the only one, TV personality and former pop star Jamelia feels the same way and we've been to meet her and her daughter Tiani to find out more.