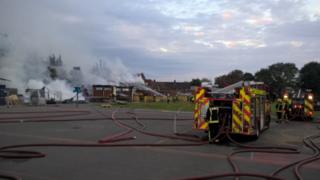 LFB
Around half of a big primary school in East London has been damaged by a fire overnight.
Police say nobody was hurt during the blaze at Roding Primary School in Dagenham.
Twelve fire engines and about 80 firefighters spent hours putting the fire out. They arrived as the scene shortly before 5 this morning.
The school says it is "one of the biggest primary schools in the country".
The cause of the fire is not yet known.
London Fire Brigade (LFB) station manager Rod Wainwright says the alert was triggered by an automatic fire alarm.
"We believe the school was empty. It is unfortunate timing that this fire has occurred just before the start of term."
Mr Waiwright added: "It is too soon to speculate on the cause of the fire but as soon as they're able to, fire investigators will enter the site to start their work."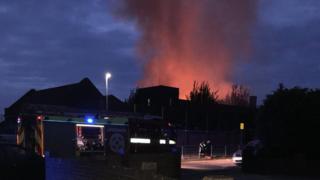 @67jrde
Firefighters are expected to be at the school for the rest of the day.
Pupils at Roding Primary were supposed to go back to school on Wednesday 5 September after the summer holidays.
Just under 1,300 children go to the school. It has 2 sites - one on Hewett Road, where the fire was, and another not far away on Cannington Road.
The school itself has put a statement its website. It says: "There has been a serious fire at our Hewitt site which will be closed today and tomorrow at least.
"Phones and email are down on both sites. Year 1-6 Cannington pupils should attend school as normal tomorrow."