Lots of you love gaming, buying upgrades and special features to make things a bit more interesting.
Have you ever felt that sinking feeling in your stomach when you realise just how much money you've spent on in-game purchases?
An organisation called the PEGI says game packaging is now going to show a warning icon to make sure you and your parents know the game you're buying offers in-game purchases.
The warning is already shown on digital-only games, and will start appearing on boxes from Christmas.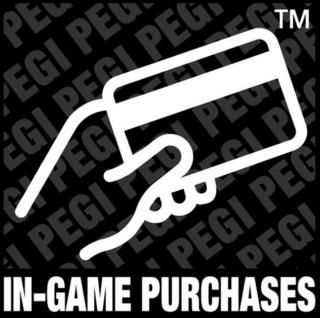 PEGI
PEGI stands for Pan European Game Information, and was set up to help European consumers make informed decisions when buying video games or apps.
It decides how old children should be to play certain games, provides descriptions about the content, and gives warnings about violence, drugs, sex, and bad language.
PEGI has announced video games will soon have an 'in-game purchases' icon, showing a hand holding a credit card, that will appear alongside these other warnings.
The problem of in-game purchases is something we've covered before on Newsround.
Now a recent customer survey taken by global market research company Ipsos found that two fifths of parents say their child spends money in-game.
There are also concerns that some in-game purchases are really gambling in disguise., which children shouldn't be exposed to.
So the point of the new icon is to inform parents who aren't in the know, that the game their child is playing lets them use real money to buy virtual items.
The warning will start appearing on game boxes later this year, so hopefully they'll be less accidentally going on credit cards without people knowing.
Managing director of PEGI S.A Simon Little says: "While we know that parents use different methods to control spending, parental control tools are a very helpful next step in making sure that the overall online experience of the child is safe, including the possibility to control spending."