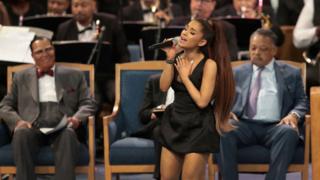 Getty Images
Stars and fans have been saying goodbye to music legend Aretha Franklin at an emotional, seven-hour funeral.
The singer, known as the 'Queen of Soul', died aged 76 on 16 August 2018.
Pop star Ariana Grande sang one of Franklin's signature songs (You Make Me Feel Like) A Natural Woman at the memorial.
The performance by The Voice judge Jennifer Hudson was one of the biggest moments of the service in Detroit.
She sung the hymn Amazing Grace, belting out the lyrics with many people giving her a standing ovation.
Who was Aretha Franklin?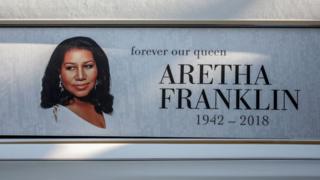 Getty Images
She had a long career in music, which lasted nearly 70 years.
In that time she won 18 Grammys, and had 17 Top Ten US chart hits.
She is best known for songs including Respect and (You Make Me Feel Like) A Natural Woman.
Many singers have have named Aretha as one of their inspirations. Tributes from around the world flooded in following the news of her death.
What was the funeral like?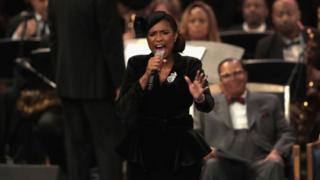 Getty Images
Aretha Franklin fans lined up hours before sunrise to get one of the 1,000 seats open to the public at her star-studded funeral.
Many said that they never met her, but feel like they knew her intimately through her songs.
In her 1985 hit single, "Freeway of Love," Aretha Franklin sang about cruising around in a pink Cadillac.
So in reference to the song, more than 140 pink Cadillacs took part in the funeral procession.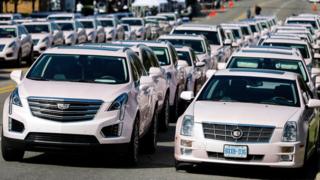 Getty Images
More than a dozen preachers spoke during the service, and three former US Presidents sent their tributes.
Barack Obama was unable to attend the funeral, but sent a speech to be read out.
His message said: "Through her voice, her own voice, Aretha lifted those of millions empowering and inspiring the vulnerable, the downtrodden, and everyone who may have just needed a little love."
George W Bush also sent a letter to Franklin's family; while Bill Clinton spoke calling her "the voice of a generation, maybe the voice of the century".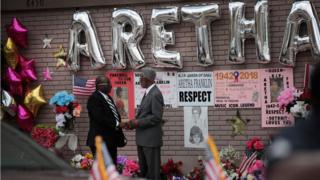 Getty Images