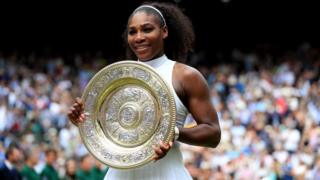 PA
It's not just how Serena Williams is playing at the moment which has got people talking.
What she's been wearing on the court has also been a conversation starter.
Here's why.
What has Serena been wearing?
For the US Open Serena's gone for a black one-shoulder tennis dress complete with tutu.
It's been designed to reflect her love of ballet.
Serena said "It's easy to play in, kind of aerodynamic with the one arm free. The tutu is easy to play in because I practiced in it before. That was fun."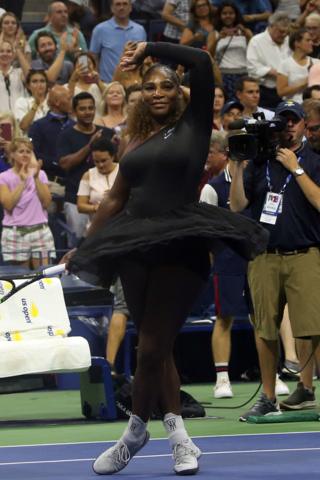 Getty Images
It's not the first time her sportswear has attracted attention.
Before this tennis tutu, Serena had worn a black catsuit at the French Open. Although she wore it for three rounds, she's now been told she won't be able to wear it there in the future.
She said it made her feel like a "superhero" and "warrior princess".
Why has Serena been wearing something different?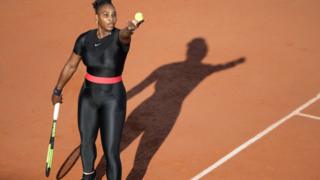 Getty Images
Serena's just getting back into the sport after taking some time out to have her first child.
She's said she has worn the different sportswear for health reasons and although the black catsuit is "fun" it's "functional". It means she can "play without any problems" as it helps with her blood circulation.
That's also the reason why she wore specially designed fishnet compression tights with the tutu.
There are four really high profile tennis competitions known as the Grand Slam tournaments.
They include the US Open, French Open, Australian Open and Wimbledon in London - they even have their own Grand Slam Rule Book!
There is quite a strict dress code for players who need to dress "in a professional manner".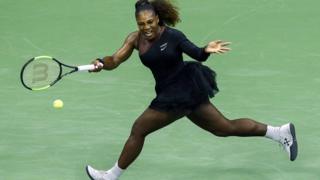 EDUARDO MUNOZ ALVAREZ/AFP/Getty Images
Each competition has its own rules, for example at Wimbledon, which is the strictest, players must wear "almost entirely white" and "white does not include off white or cream"!
After Serena's catsuit in Paris, Bernard Giudicelli, the president of the French Tennis Federation suggested it will be the kind of sportswear no longer accepted as the French Open prepares to introduce new dress code rules.
He said "You have to respect the game and the place."
Well, we can't wait to see what she wears next.