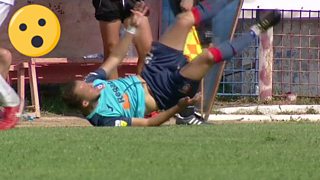 Footie manager sent off for fouling a player
Sometimes it must be pretty tough for football managers to stay on the sidelines whilst their team plays.
It all got a bit too much for one head coach during a game in Romania.
Arges Pitesti were playing against Chindia Targoviste.
In the 81st minute of the game the Arges Pitesti manager Emil Sandoi got stuck in.
He put his leg out tripping up a player from the other team as he was running with the ball down the wing.
Sandoi was given a red card and sent off for the rest of the game.
We bet it was awkward in the changing room after that!