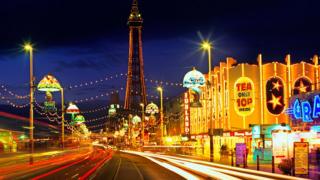 Getty Images
Have you ever been told to turn off lights at home because "it looks like the Blackpool Illuminations"?!
Well, the actual illuminations, over a million lights, have just been switched on!
Lucy Fallon who plays Bethany Platt in Coronation Street, pulled the switch in front of almost 20,000 people along the seafront.
There were also several other famous faces to help with celebrations, including Busted, Diversity, Becky Hill, children's TV character Sooty and Britain's Got Talent contestants Flakefeet Children's Choir.
The tradition of illuminations that light up the town of Blackpool have happened for over a century…so what's it all about?
What are the Blackpool Illuminations?
Getty Images
The illuminations are a yearly lightshow.
Around six miles of Blackpool's coastline are lit up with loads of different colourful designs.
They're switched on every year for 66 days.
This year they'll be on between 30 August and 3 November.
How old are the Illuminations?
The illuminations are 140 years old.
They were first switched on in 1879 and at the time there were just 8 lamps.
Since then they've been switched on every year, apart from during World War One and World War Two.
How many lights are there?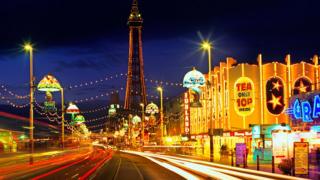 Getty Images
Loads - more than a MILLION!
There are so many that it costs about £2 million every year to run the illuminations.
There are two main types of light: festoon and tableaux.
Festoon lights are the ones which hang over the road - they look a bit like a bigger version of Christmas tree lights.
Tableaux lights are more like illuminated pictures.
What about the environment?
Blackpool Illuminations now only use green energy from renewable sources such as wind and water. It means that carbon dioxide emissions caused by the illuminations is zero.