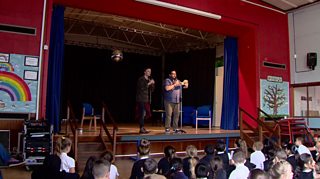 School kids in Edinburgh get their own Fringe Festival
Hundreds of thousands of people visit the Edinburgh Fringe every year.
It's the largest arts festival in the world.
There are all sorts of shows as part of it, including comedy, drama, music and even magic!
But because tickets can be pricey for some, one teacher there had an idea.
Jon Carstairs is also a comedian so he posted online asking his fellow performers to come to his school for free.
Lots of them agreed so kids there have been able to see all sorts of acts including singers, storytellers and mad scientists.
Sounds fun!