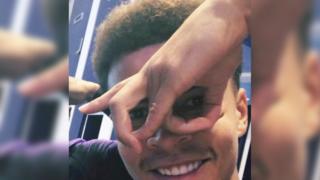 Instagram/@dele
Thought you had the Dele Alli celebration mastered? THINK AGAIN!
The world-famous midfielder got everybody talking recently about his unusual hand gesture after scoring.
We were all trying (and mostly failing) to learn how to do it and it became the latest viral craze.
But now, he's gone and unveiled a new version of the gesture - and it looks even harder!
Why, Dele, WHY?!
In the latest move, the Spurs superstar creates not one but TWO hoops with his fingers to look through.
Have you got it mastered yet?! Let us know in the comments below - because here at Newsround HQ we sure can't do it yet!