About 22,000 people have now been rescued from severe floods in the state of Kerala, India.
There are thought to be 725,000 people now living in 5,645 camps that have been set up to help those who have been forced to leave their homes.
More than 350 people are thought to have died in the flooding, which was caused by weeks of heavy rain.
It's thought to be the worst flooding in a hundred years in Kerala.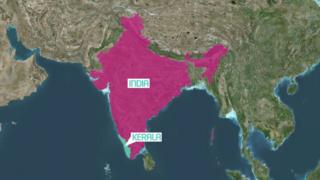 Newsround
Weeks of heavy monsoon rains have set off landslides and floods.
While it is normal for Kerala to get some of the country's highest rainfall during monsoon season, the India Meteorological Department said it had been hit with 37% more than usual.
Hundreds of troops, and dozens of boats and helicopters are helping to evacuate people.
Food and supplies have been distributed to many of those in the refuge camps, but some survivors have been without food and water for days.
Indian Prime Minister Narendra Modi has visited the region and spoken to officials there to see what help they need.
Kerala's Chief Minister says the flooding is the worst the state has seen in 100 years.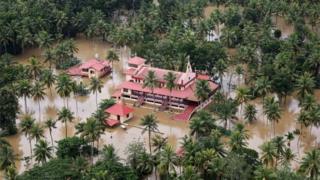 Reuters
Hundreds of troops are involved in a huge rescue effort, carried out by the army, navy and coastguard, as well as teams from Border Security Force and National Disaster Relief.
Local fishermen have also been helping to reach some of the hardest hit areas.
Authorities say a total of 38 helicopters and 20 aircraft have been deployed and are helping to airlift emergency supplies.
A special train that carries drinking water has also been sent to the state.