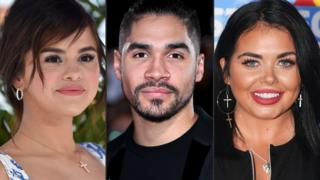 Various
Little Mix's Perrie Edwards has been praised this week for ditching the makeup and revealing her freckles to the world.
On the group's official Twitter account, she said: "Growing up I was always insecure about the freckles on my face. Over the last couple of years I've started to embrace them and don't feel I need to hide them anymore. Embrace your individuality. Love what you love without worrying about judgement" P<3"
It's also not the first time she has encouraged fans to love themselves just the way they are.
In June 2017, she proved a huge inspiration to many when she revealed a big scar across her stomach. Her post promoted a wave of positivity on social media from fans embracing their own scars too.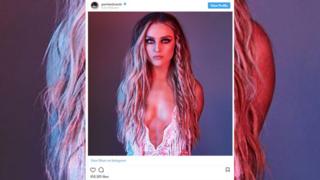 Instagram/@perrieedwards
But Perrie isn't the only one who wants people to love themselves just the way they were made, to embrace the way they naturally look and to celebrate everybody's differences.
Here's what some other celebrities have to say on the matter.
Selena Gomez: 'What you have inside is much more beautiful than what's on the outside!'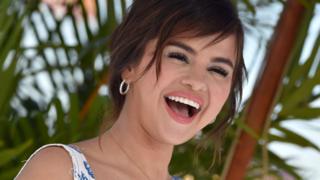 Getty Images
Back in 2008, Selena Gomez told Twist Magazine that a lot of her childhood friends had blue eyes and blonde hair - and she wanted to look like them.
But Selena says that she thinks having darker skin, eyes and hair actually helped her in auditions as she stood out from the crowd more.
Well, she certainly stands out from the crowd now!
Louis Smith: 'Try to be happy with yourself, regardless of what people say!'
You might not have thought that an Olympic medal-winning gymnast would have any issues with his body - but that wasn't always the case for Louis Smith.
He told Newsround how he used to hate his long arms when he was growing up.
But little did he know that those long arms would go on to win him an Olympic medal and an MBE from the Queen.
So he's a big believer in spreading the message about being happy with the way that you were made.
Ariana Grande: 'Celebrate yourself. Celebrate others. The things that make us different from one another make us beautiful.'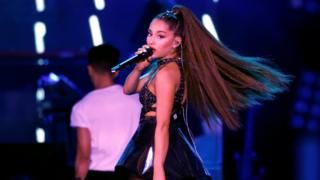 Reuters
Ariana hasn't always had the easiest relationship with social media. Not too long ago, she announced that she would be taking a break from it after people weren't very kind about the news that she had got engaged to Pete Davison.
Back in 2015, she took to social media to share a message with the world about celebrating our differences. She started the post with "here we go again", suggesting that she had maybe been on the receiving end of negative comments.
In the post, she reminded her fans: "You're beautiful. It's a beautiful day to be yourself!"
Julianne Moore: 'Everybody has something that makes them feel different'
Oscar-winning actress Julianne Moore didn't always feel totally confident when she was growing up.
Just like Perrie, she had freckles that she used to hate and she was self-conscious about her red hair and pale skin.
Now, she embraces being different. She explains how we all have things that make us physically different to other people - and that's completely normal!
Nikki Lilly: 'Beauty lies within. It's not what you see on the outside.'
Thirteen-year-old vlogger Nikki Lilly is no stranger to CBBC, regularly meeting a whole host of celebrities for her series Nikki-Lilly Meets.
When she was little, she was diagnosed with a condition called arteriovenous malformation (AVM), which causes her face to look slightly different.
She regularly posts videos online talking about her condition and offers advice to people struggling to cope with facial differences.
Meghan Trainor: 'You need to learn to love yourself at a younger age'
Like many other celebrities, Meghan Trainor hasn't always found it easy to feel positive about the way that she looks.
She said that when she was younger, she didn't used to like wearing a swimming costume in front of other children because she felt self-conscious.
So she would stay at home and miss out on the fun, which is something that she really regrets now.
"You need to learn to love yourself at a younger age," she told Newsround. "I don't think we love ourselves as much as we should."
Scarlett Moffatt: 'Please don't let other people stop you from doing what you love. Real beauty shines from within.'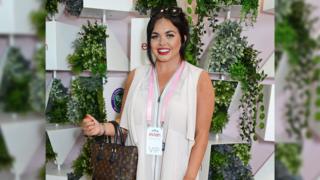 Getty Images
It isn't easy for celebrities in the public eye, as people on the internet can hide behind their screens and say nasty things about the way that they look - especially on social media.
TV presenter Scarlet Moffatt has had this happen to her a lot and so she often speaks out about how important it is to ignore people who say horrible things and just love yourself the way you are.
Radhika Sanghani: 'My nose is mine and I'm determined to love it just as it is!'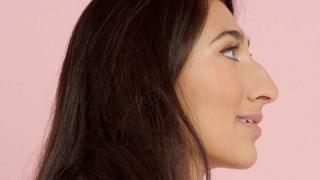 Grazia/Lottie Bea Spencer
You might not have heard of journalist Radhika Sanghani, but this year she has been spreading a really positive message about loving...our noses!
She wrote in Grazia magazine how she grew up hating her nose. "I've spent my whole life hiding from a side-profile photograph. Every time I see a camera I know exactly how to position myself so my nose isn't captured on film in its full, crooked glory."
"I grew up thinking that you can't be beautiful unless you have a little nose."
Radhika decided she'd had enough and wanted to embrace her own nose and help everyone else to do the same.
She started a campaign called #sideprofileselfie encouraging people to post pictures of their noses in all their wonderful shapes and sizes - and the campaign went completely viral with thousands of people all over the world being inspired to embrace their natural noses.