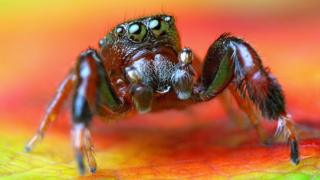 Lukas Jonaitis/Wikimedia Commons
It's not uncommon to spot a spider in the bath or crawling up the wall.
Jumping spiders, however, are not something you'd expect to see in the UK.
That could be about to change though, as a rare species of the creepy crawly has been discovered living in a nature reserve in Warrington, England.
The sighting of the Sibianor larae was made in June at Cheshire Wildlife Trust's Holcroft Moss Nature Reserve.
The tiny spider is half the size of a matchstick head, and was found by arachnologist Richard Burkmar.
He then spoke to a spider expert who confirmed that it was the first recognised sighting of a Sibianor larae in the UK.
Despite a lack of sightings, experts are almost certain that the tiny jumping creatures have survived in bogs here for thousands of years.
So next time you're out in the wild, keep your eyes peeled for this amazing jumping critter! But you might have to look REALLY close.